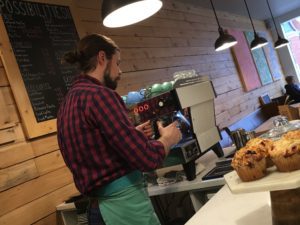 Business receives a Brilliance in Business Award from the City of West Chicago
Kindred Coffee Roasters, located at 148 West Washington Street in downtown West Chicago, began in July of 2013 as a small roast to order online retailer of specialty coffee in West Chicago, has won a 2018 Brilliance in Business Award from the City.
Started by Ryan Hammer, his sister Sarah Harms, and her husband Patrick Harms, the three continued to dream of a day when Kindred could grow into something more, a full service coffee shop in their home town of West Chicago.
In 2016 the trio began their search to find a location in the Downtown Historic District for Kindred to call home. By year's end, they had found a property, located at 148 W Washington St.  The building was in rough shape, but they saw potential for it to be transformed into exactly what they were hoping for, a beautiful cafe and community space.
From the beginning, Kindred Coffee has exhibited an unwavering commitment to and appreciation for the community of West Chicago.  By embracing the unique characteristics of the City's culture, Kindred Coffee has built not just a coffee shop but a place for residents to gather, exchange ideas, hold play-dates for their children, host First Friday art receptions, and build relationships.
In an era where many small establishments are being displaced by large chains and online sources, Kindred Coffee has not only succeeded as a physical place within West Chicago, but has grown into an integral part of the community that reflects the vibrancy and dynamism of its past, present and future.
This success is an obvious result of the organization's remarkable vision and leadership.  The unparalleled level of service provided to your customers – from the carefully prepared coffees and teas to the curated food selection to the countless activities and events offered – serves as a remarkable example of the outcomes of merging great ideas with business acumen and embrace of community.
"Your dedication to your customers and the City of West Chicago, as well as your entrepreneurial vision and spirit, deserve public recognition," said Pete Kelly, the City's Business Development Coordinator.
The Brilliance in Business Awards program is a vehicle for the City to connect with its business community and aims to acknowledge the efforts businesses are making in reaching their goals and those of greater benefit to the community.
A video clip on the City's YouTube channel highlights the business through a visit by Mayor Ruben Pineda to congratulate the business owners on their award.