City of West Chicago Recognizes Business as an Industry Leader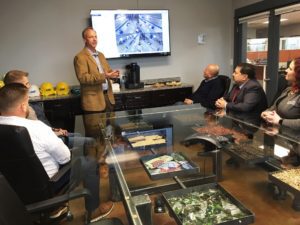 Lakeshore Recycling Systems (LRS), at 1655 Powis Road in West Chicago, Illinois is an established leader in the industry of waste diversion, with its ability to reclaim 40% recyclable material from the conventional waste stream, has been recognized as a Brilliance in Business Award recipient by the City of West Chicago.
LRS has demonstrated a clear commitment to environmental stewardship and sustainability through its continuous investment in sophisticated equipment and new technology. According to the City of West Chicago's Business Development Coordinator, Pete Kelly, serving diverse marketplace needs is both a challenge and opportunity, and LRS has proven how embracing innovation helps meet a wide range of client needs.  This combined dedication to both environmental preservation and customer service has propelled LRS to its status as Illinois' largest privately-held waste diversion company.
Additionally, through the development of a strong safety culture LRS exemplifies a commitment to the health and well-being of its employees and the community that serves as a model for others to follow.  Having made safety a core value, LRS was recognized in June of this year as both the Overall Safety Award winner and the Biggest Safety Improvement Award recipient by the Solid Waste Association of North America (SWANA) for its Live Safety initiative.
LRS's organizational practice of environmental stewardship, market expansion, and workplace ad community safety is a model that has led to the business' tremendous growth, and according to the City, deserves public recognition.
To learn more about LRS and why it was chosen as a brilliant business, visit the City's YouTube page under Brilliance in Business for a short video of Mayor Pineda meeting with the company's leadership team.
The Brilliance in Business Awards program is a vehicle for the City to connect with its business community and aims to acknowledge the efforts businesses are making in reaching their goals and those of greater benefit to the community.