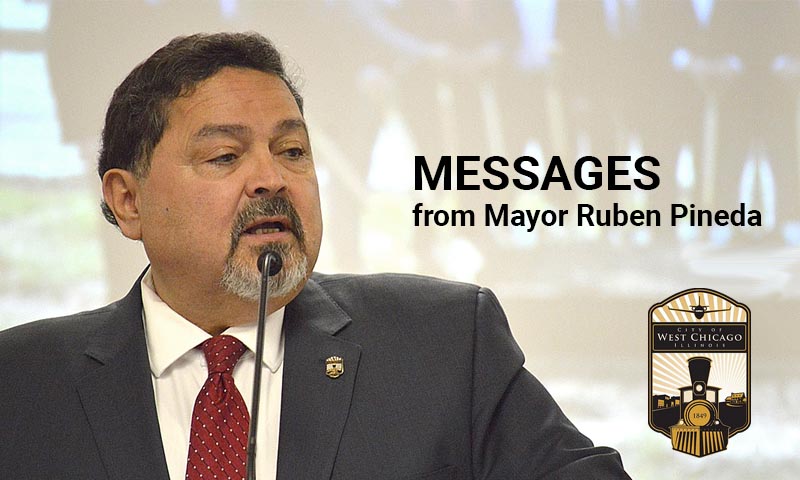 Dear fellow community members,
As we endure another week of Governor Pritzker's Stay at Home Order, the national focus has shifted to opening our economy, even in the midst of the COVID-19 health crisis that continues to threaten the health of our community and country.
Many believe the economic fallout to our business community is equally devastating. We are fortunate for leadership on the regional, State, and federal level that is working together to safely reopen our economy in a way that is driven by fact-based data that incorporates a phased approach and prioritizes our workers' health, and by extension, the health of every community member. We cannot have one without the other, and I urge you to remain patient and hopeful that we all be back to work when the time is right.
As we shelter in place, there are some actions we can take to help our local businesses. The U.S. Chamber of Commerce has put out the following list of recommendations:
Get it to go. Order from our local restaurants and bars via delivery service, to-go, or curbside pickup.
Buy in advance. Purchase gift cards or book services from local businesses to use at a future date.
Follow along. Your favorite local businesses are online and sharing specific ways you can support them.
Shop small online.Websites have not closed and it is important to leave positive reviews for local vendors and businesses.
Stay looped in. Keep up with your memberships, and with services that are still offered online.
Say thank you.Many business owners and workers are risking their health to provide critical products and services. Be thankful.
Once our economy fully opens, it will be even more essential to do business locally. The future of our community depends on it.
Stay safe, be well, and shop local. We're in this together.
Respectfully,
Ruben Pineda
Mayor of West Chicago
__________________________________________________________________________________________________________________________________________________________
Queridos compañeros miembros de la comunidad,
Mientras resistimos otra semana de la Orden de Permanecer en Casa del Gobernador Pritzker, el enfoque nacional ha cambiado para abrir nuestra economía, aun en medio de la crisis de salud del COVID-19 que continúa amenazando la salud de nuestra comunidad y país.
Muchos creen que la secuela económica a nuestra comunidad de negocios es igualmente devastadora. Estamos afortunados por liderazgo en el nivel regional, Estatal, y federal que están trabajando juntos para abrir sin peligro nuestra economía en una manera que es conducida por data basada en los hechos que incorpora un enfoque por fases y da prioridad a la salud de nuestros trabajadores, y por extensión, la salud de cada miembro comunitario. Nosotros no podemos tener uno sin el otro, y le urjo de permanecer paciente y esperanzado que todos nosotros regresaremos a trabajar cuando el tiempo es correcto.
Mientras nos refugiamos, hay algunas acciones que podemos tomar para ayudar a nuestros negocios locales. La Cámara de Comercio de EE. UU. ha puesto la siguiente lista de recomendaciones:
Obténgalo para llevar. Ordene de nuestros restaurantes y barras locales vía servicio de entrega, para llevar, o recogida en la acera.
Compre por adelantado. Compre tarjetas de regalo o servicios de libros de negocios locales para usar en una fecha en el futuro.
Siga a lo largo. Sus negocios locales favoritos están en línea y compartiendo maneras específicas de cómo pueden apoyarlos.
Compre en tiendas pequeñas en línea. Los sitios web no han cerrado y es importante dejar críticas positivas para vendedores y negocios locales.
Manténgase enlazado. Esté al tanto de membresías, y con servicios que todavía son ofrecidos en línea.
De gracias. Muchos dueños y trabajadores de negocios están arriesgando su salud para proveer productos y servicios críticos. Sea agradecido.
Una vez que nuestra economía abra completamente, será aún más esencial para hacer negocio localmente. El futuro de nuestra comunidad depende de ello.
Manténgase seguro, que este bien, y compre local. Estamos en esto juntos.
Respetuosamente,
Ruben Pineda
Alcalde de West Chicago