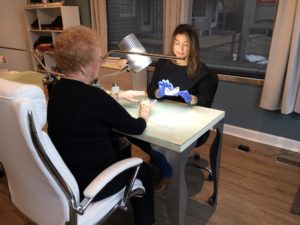 Business receives a Brilliance in Business Award from the City of West Chicago
From its inception eight years ago, Royal Polish Nail Salon has known the secrets of success in the small business world; personal service, knowledge and commitment to industry best practices; and the charm of a downtown bricks and mortar location. The business recently was awarded the prestigious Brilliance in Business Award from the City of West Chicago.
Owner Kristin Ramirez has established the core value of offering an unsurpassed level of customer service that has rewarded her with a steady, loyal clientele and consistent 5-star reviews on social media. Her business also received several shout-outs to the City of West Chicago's call for nominations for its annual business recognition program.
Ramirez's passion for education in the field of cosmetology, specifically nail care, is crystal clear the moment one steps into the clean, serene nail salon at 116 Galena Street in historic downtown West Chicago. Recently, Mayor Ruben Pineda and City staff visited the business to congratulate Ramirez and tour the intimate space that exudes the ultimate in pampering. While there, Mayor Pineda spoke about the City's plans for the downtown's future redevelopment, and thanked her for contributing to its growing vitality through her quality establishment.
A video of the Mayor's tour is available here or by searching YouTube for City of West Chicago under its Brilliance in Business playlist.