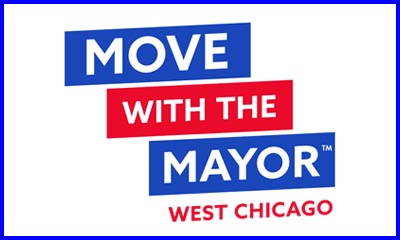 Mayor Ruben Pineda is joining thirty-one other mayors in a nationwide initiative to reduce heart disease and stroke, the nation's No. 1 killer, by encouraging residents to get up and get moving. Mayor Pineda will kick off West Chicago's annual "Move with the MayorTM" (MWTM) series of physical activity offerings aimed to foster community and lower the risk of cardiovascular disease across the City on August 1, 2021.
Since communities continue to be impacted by the COVID-19 environment, and to maintain everyone's safety, this year's MWTM initiative activities will be virtual.
Mayor Pineda is joining residents in a citywide virtual physical activity challenge to demonstrate that staying active can be fun and rewarding and that even the busiest people can make time for heart-healthy activities.
Move with the MayorTM, a partnership between the City of West Chicago, Healthy West Chicago, and the National Forum for Heart Disease & Stroke Prevention, encourages residents to join the Mayor in a citywide virtual physical activity challenge in August and September.
For more information, visit the Healthy West Chicago website.