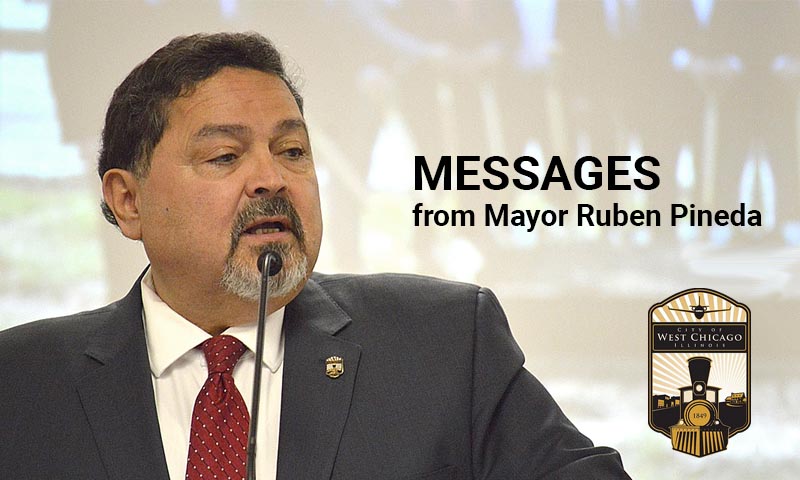 Dear Fellow Community Members,
Over the past few weeks, the cruelty of COVID-19 has been felt in our community, just as it is being felt in communities across the country.
This is a disease that continues to wreak havoc on our community's health, including physical, mental and financial, family dynamics, social and personal relationships, as well as on the local economy.
I have heard from many in the community who are struggling with some of these difficulties and I would like to tell you that you are not alone. There are resources available that may provide assistance during the current crisis.
The City has always maintained a Social Service Resource Guide on its website for our neighbors in need. Now, we have added the Guide to the City's COVID-19 Communications Center under the category of Social Services. You will find contact information on organizations that may help with many of the challenges being faced due to business closures, unemployment, stress, and family conflict. Help for the most basic needs like food, shelter, and clothing is available for those who qualify.
Programs for our small businesses are available through the Small Business Administration and may also be resourced through the City's COVID-19 Communications Center under Business Resources.
Now more than ever, our community resilience is being tested. Unlike manmade or natural disasters that have an end in sight, this pandemic has strained our spirits with its unpredictability. We are still learning how it will progress and on what timeline. All we know for sure are the ways in which we can help prevent its spread. Fortunately, this puts us at an important advantage. I urge you to continue to suppress the community spread in West Chicago by social distancing at least six feet from another person, wearing a mask outdoors, and washing hands frequently.
It has been reported that some people are not following the social distancing guidelines at our parks, in our neighborhoods, or other public places. If you notice groups of more than ten, or others who are not safe distancing as you head outdoors, please call 911 and our police officers will be sent to the location to issue a friendly reminder and ask groups to disperse. We must remain united in our efforts to reduce community spread of this deadly disease.
Thank you for everything you are doing. Your efforts are helping us flatten the curve in our community.
Respectfully,
Ruben Pineda
Mayor
____________________________________________________________________________________________________________________________________________________________
Queridos compañeros miembros de la comunidad,
Durante las últimas semanas, la crueldad de COVID-19 se ha sentido en nuestra comunidad, igual como se siente en comunidades a través del país.
Esta enfermedad que continua a causar estragos en nuestra salud comunitaria, incluyendo físicos, mentales y financieros, dinámicas familiares, relaciones sociales y personales, igual que en la economía local.
He escuchado de muchos en la comunidad quienes están en apuros con algunas de estas dificultades y les quiero decir que no está solos. Hay recursos disponibles que pueden proveer asistencia durante la crisis actual.
La Ciudad siempre ha mantenido un Guía de Recursos de Servicio Social en su sitio web para sus vecinos en necesidad. Ahora, hemos agregado un Guía al Centro de Comunicaciones de COVID-19 de la Ciudad bajo la categoría de Social Services. Usted encontrará información de contacto sobre organizaciones que pueden ayudar con muchos de los desafíos siendo enfrentados debido a los cierres de negocio, desempleo, estrés, y conflicto familiar. Ayuda para las necesidades más básicas como comida, refugio, y ropa está disponible para aquellos que califican.
Programas para nuestros negocios pequeños están disponible por medio de la Small Business Administration y también pueden ser servidos por medio del Centro de Comunicaciones de COVID-19 de la Ciudad bajo Business Resources.
Ahora más que nunca, nuestra resistencia comunitaria está siendo probada. A diferencia de desastres producidos por el hombre o naturales que tienen un final en vista, esta pandemia ha cansado nuestros espíritus con su imprevisibilidad. Nosotros todavía estamos aprendiendo como va progresar y en qué línea de tiempo. Todo lo que sabemos por seguro son las maneras en las cuales podemos ayudar a prevenir su propagación. Afortunadamente, esto nos pone en una ventaja importante. Le ruego que continúe a reprimir la propagación comunitaria en West Chicago por distanciamiento social por lo menos seis pies de otra persona, poniéndose un cubre bocas afuera, y lavándose las manos frecuentemente.
Se ha reportado que algunas personas no están siguiendo las guías de distanciamiento social en nuestros parques, en nuestras vecindades, y otros lugares públicos. Si usted nota grupos de más de diez, u otros quienes no están distanciados seguros cuando sale afuera, por favor llame el 911 y nuestros oficiales serán mandados al sitio para darles un recordatorio amistoso y pedirles a los grupos que se dispersen. Nosotros debemos permanecer unidos en nuestros esfuerzos para reducir la propagación comunitaria de esta enfermedad mortal.
Gracias por todo lo que está haciendo. Sus esfuerzos están ayudando aplanar la curva en nuestra comunidad.
Respetuosamente,
Ruben Pineda
Alcalde