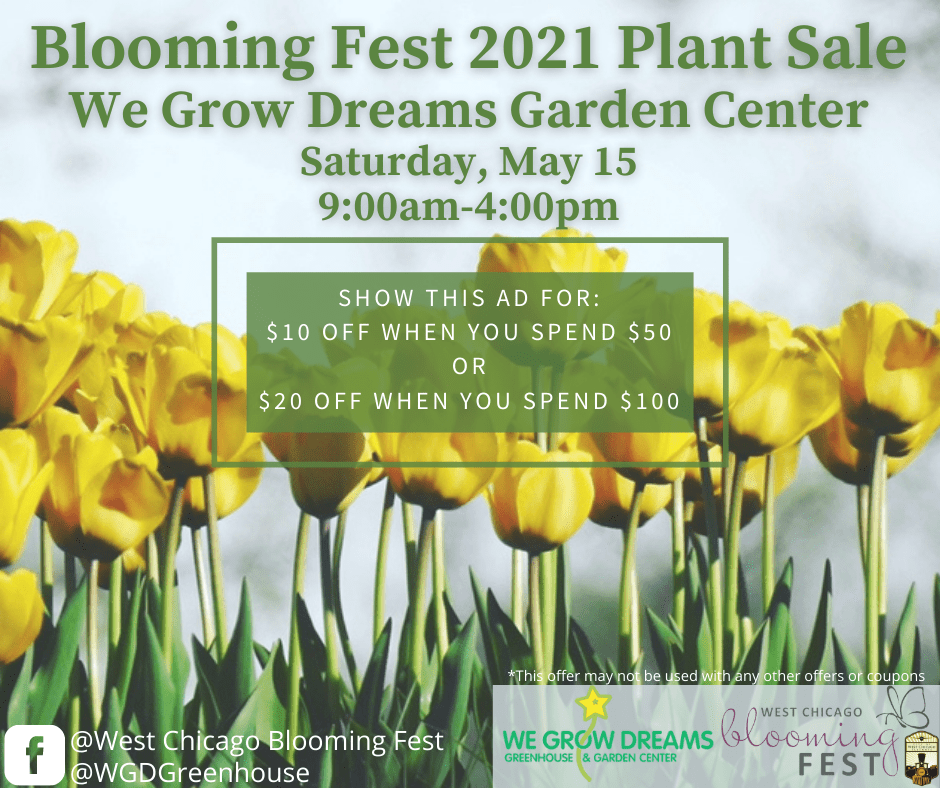 The article below appeared in At Home with Merle Burleigh, a weekly blog on the City's website, on July 22, 2020. It was written by local writer Merle Burleigh. As it features the outstanding mission and work of WeGrow Dreams Greenhouse & Garden Center, which is hosting the City's Blooming Fest Plant Sale this year, it seems extremely appropriate to reprint this article here.
Blooming Fest Plant Sale
We Grow Dreams Greenhouse & Garden Center
1055 W Washington Street
Saturday, May 15, 2021
9:00 a.m – 4:00 p.m.
Must show ad at right to receive discount $10 off when you spend $50 or $20 off when you spend $100.
https://wegrowdreams.org/
At Home with Merle Burleigh – July 22, 2020
Although there have been changes since We Grow Dreams Greenhouse & Garden Center opened its doors 15 years ago in April 2015, the mission has remained the same, which is "to provide people with disabilities the opportunity to lead fulfilling lives and to train and work in a supportive, safe and caring environment while producing and providing products and services to the community. In this pursuit, we honor the concepts of human dignity, respect, hard work, fellowship and friendship."
The location at 1055 West Washington Street was the site of We Go Greenhouse, which had been in the community for many years. Donna Jarmusz, founder of the 501(c)(3) not-for-profit organization, explained "The name signifies trying to make dreams come true and planting seeds of opportunity." Here the futures of mentally and physically special needs individuals are taking root.
At that time, she was the mother of a 21-year-old special needs son and realized how important it was for him and others in the same situation to lead a fulfilling life. Working with Holly and Mark Riordan and Art and Cindy Swanson, parents of special needs children, they researched many different types of businesses; the greenhouse seemed to be a perfect fit. She explained, "The environment of a greenhouse has a quiet, calming effect. Horticultural therapy works and this is similar." Not only is it a low tech and low stress environment for the special needs individuals, but it also provides a variety of tasks allowing the individuals to learn more than one skill. The sample of jobs includes folding boxes, lining up pots, watering, transplanting, basic housekeeping, assisting customers and painting. Most importantly, it gives them a purpose. Once trained, the special needs individual receive a paycheck, something many never had before. Working hours vary between 10 to 20 hours a month.
At the beginning, participation usually involved families and usually one parent volunteered to assist. Greg Bettcher, the current executive director said, "We Grow Dreams now incorporates team members from West Chicago, Wheaton Warrenville South, and Wheaton North High schools, as well as members of Soaring Eagle Academy in Glen Ellyn. We continue to employ team members independently from many of our neighboring communities such as Aurora, Batavia, St. Charles and Elgin." The students come as part of the school districts' transition programs plus a couple of job coaches. "Parents participate as job coaches for individuals, but are not part of the school program."
For the last four years Master Gardeners of DuPage, headed by Karen Pachyn, have assisted as mentors and coaches. "Their presence here as added a great deal of plant expertise, teaching practices and, of course, invaluable volunteer hours. Combined with their efforts and hard work of our team members we regularly log more than 100 hours of work per week making it possible for our organization to meet our planting goals." Bettcher added, "Our team members, for the most part, like to do the heavy tasks. They love pulling branches apart and tossing them in the dumpsters. They enjoy staining and painting our benches and clearing out areas of new mulch donated by Chuck Strayve Landscaping in West Chicago here in town. Of course the least favorite job on everyone's list is weeding, but nonetheless, it gets done."
There also have been physical changes. A house that required much work and was not easily accessible for the special needs individuals was demolished. "There have been many upgrades to our mechanical systems like heaters and circulation fans made possible on the strength of contributions through Ball Horticulture and many private donors. In addition we have been able to upgrade our growing houses, benches and watering systems to assure and improve the quality of our some 450,000 plants". Overgrowth and trash that accumulated for numerous years filled five dumpsters. "The grounds are vastly improved all with the help of our team members and volunteers."
Barbara Dopplet and Linda Yoakum have been with the program for years. Their sons have been an integral part of the greenhouse.
Dopplet's son, Bryan has Down syndrome. People with Down syndrome typically have a range of intellectual challenges, physical characteristics, and health conditions. "While many people with Down syndrome function at a fairly high level, Bryan does not. His speech is extremely difficult to understand, he has a number of autistic-like tendencies, and in many ways he is more like a child than the 39-year-old adult that he is." They became involved with the greenhouse the winter after it opened. "Right from the beginning, Bryan was willing to go to work at the greenhouse. Even after 15 years, he never balks at going out there which isn't true for many of the other things I ask him to do! There are so many different jobs there. Many of which I laughingly refer to simply as 'moving stuff around.' Bryan can spend three hours straight filling pots with potting soil and never once ask for a break. That task and throwing old, dead plants on the compost pile are probably his favorite activities. He places empty pots into trays, carries flats of plants, folds cardboard boxes, pulls weeds, washes and rinses used pots, though this is not a favorite task, sweeps floors, picks up trash, whatever needs to be done during his shift." Barbara and Bryan usually work on Saturdays, when many others are working. Everyone gets to know one another. "Bryan was only 12 when he lost his dad to cancer, so he's always liked being around men; he formed a natural connection with Gregg and the men who are there as volunteers…Those relationships have really been good for Bryan."
Linda Yoakum's son, Billy, is non-verbal, a hallmark symptom of Angelman Syndrome, his primary diagnosis. They have been involved with the greenhouse since it was founded. Billy was 18 and now is 33. Billy and Linda work Saturday mornings, three times a month for their 10 hour total. It is a place for him to receive a paycheck. Linda said, "He has learned that if he doesn't work, he doesn't get paid; no paycheck equals no movie. He has learned the gross-motor tasks of filling trays with pots, filling pots with dirt, hauling trays of plants, composting, following the tasks needed by management for the day. He is always so proud to take that paycheck to the bank teller, sign his name on the back, and be handed the cash." The COVID-9 pandemic has been difficult for both families. Linda Yoakum said, "Billy has not been able to work since March, but I have volunteered a few times for Gregg in the spring. Each time he sees my We Grow Dreams shirt, he 'signs' that he wants to go. I think he misses his friends and work."
Bryan Dopplet has been unable to do any of his usual activities, which include his day program, special recreation sports, and work at We Grow Dreams. Barbara said, "It's been disorienting to him and me. The one day that we all gathered at We Grow Dreams to fill pots for mum production, working outdoors, wearing masks was a highlight of May. Bryan was glad to be back and wonders why we aren't going every Saturday, like we did before."
The We Grow Dreams program means a lot to the participating families. Bettcher, the professional growers and crew also look forward to the team members being able to participate again, hoping the greenhouse will be able to host its Fall Fest and Christmas Open House with social distancing and wearing of masks.