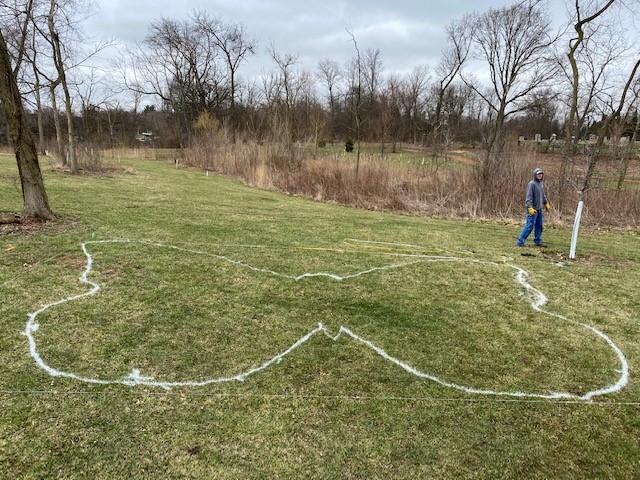 Attention all West Chicago butterfly lovers, and there are many. Two new public gardens have been designed and installed through a collaboration between the West Chicago Park District, the City of West Chicago, and resident and Master Naturalist Judith Horsley, who applied and received a grant on the Park District's behalf from the North American Monarch Institute (NAMI) in Madison, Wisconsin.
The gardens are located at Reed-Keppler Park, 129 National Street and Don Earley Park, 840 E. Washington Street. The Don Earley Park Monarch garden will serve as a "laboratory" for citizen-scientist involvement and as a potential site for a Monarch festival.  Community involvement with planting the garden was part of the proposal, however due to the COVID-19 pandemic was not possible and Park District staff undertook the job of planting.
The gardens' planning began late summer 2019, when Horsley returned from a three-day course at the North American Monarch Institute (NAMI) in Madison, Wisconsin sponsored by the partnership between the United States Forest Service International Programs, the Monarch Joint Venture, and the University of Wisconsin – Madison Arboretum on Monarch and Science Inquiry Learning.
The purpose of the sessions was to further an understanding of the use of native plants and the importance of pollinators, and to learn how to help facilitate projects in and around the City of West Chicago. Also attending were three teachers from West Chicago School District 33.
One of the components of the course was to begin building a proposal for a community project that would potentially receive funding from NAMI. Judi took on the project of a teaching garden for children between the grades K – 12, with great enthusiasm, recruiting the assistance of the City of West Chicago and the West Chicago Park District.
As the West Chicago Park District offers summer camps from pre-school through 9th grade, as well as before and after school programs for elementary children, the educational component was a natural fit as various elements of the Monarch curriculum could be added to these programs on an age appropriate level. A seasonal program for adults is also planned.
Equally enthusiastic was the response from the West Chicago Park District and the City, which facilitated the meetings and gave the gardens their wings. Literally. Superintendent of Parks, Michael Gasparini came up with the idea of forming the gardens in the shape of large butterflies. Working closely with Horsley, a native plant list was created which ensures blooming from spring through fall. The following lists some of the plants that will be included:
Swamp Milkweed (Asclepias incarnata) and/or
Common Milkweed (Asclepias  syriaca)
Blue Wild Indigo (Baptisia australis)
Purple Coneflower (Echinacea purpurea)
Joe-Pye Weed (Eupatorium maculatum)
Marsh Blazing Star (Liatris spicata)
Wild Bergamot (Monarda fistulosa)
Stiff Goldenrod (Oligoneuron rigidum)
Prairie Spiderwort (Tradescantia bracteata)
Everyone associated with the project hopes that the butterfly gardens will become a model program for all of DuPage County through its promotion by the DuPage Monarch Project upon completion of installation and curriculum additions for youth and adults. "Either volunteer Master Naturalists or Master Gardeners could teach these programs," Horsley said.  "Programs to conserve the Monarch butterfly have potential to create community engagement with every citizen of West Chicago."