Richard Truitt
West Chicago resident Richard "Dick" Truitt is a Community Champion in many ways. He is one of the few remaining brave soldiers who served during the invasion of Normandy, as a tank driver. He took part in the Battle of the Bulge in the 3rd Armored Division, 83rd Reconnaissance Battalion, in World War II. He was injured twice during these campaigns.
At the end of the war in 1945, Truitt returned home to West Chicago, Illinois, and soon married his high school classmate, Catherine, a cadet nurse. He chose teaching as his profession and worked locally for the Waterman and Wheaton School Districts, teaching primarily 5th grade, and completed his Master's Degree at Northern Illinois University. Truitt was instrumental in shaping youth both in and out of the classroom, and is known in the community for establishing the local football and wrestling programs.
Truitt continued his lifetime of community service and involvement, which included serving as an Alderman and City Clerk, and as Mayor from 1971 – 1977. His contributions to West Chicago's future may be seen today and will be enjoyed by future generations of West Chicagoans.
Environmental Impact
Perhaps the most significant accomplishment by Truitt was his championing of a tract of land vacated by West Chicago's stockyards in 1960. The land, which was purchased by a developer sat vacant because of its natural water retention. During his tenure as Mayor, Truitt, a nature enthusiast, made the discovery that its plants were very special.   While taking a class on prairie plants at the Morton Arboretum, he recognized plants that he had seen when playing as a boy at the stockyards in the 1930s.  He engaged ecologists to inventory local species, eventually cataloging 622 plant and animal species – making it one of the most ecologically diverse areas in Illinois.
Through his passion, insight, and advocacy, Truitt convinced the Forest Preserve District of DuPage and the City of West Chicago to purchase the property in 1979.  It subsequently received the highest level of protection with the rare designation of a State Preserve, the West Chicago Prairie Forest Preserve. An approximate one-third section was dedicated in 2006 as the Truitt-Hoff Nature Preserve, in honor of Mayor Truitt and Melvern Hoff, founder of the West Chicago Prairie Stewardship Group.
Judith Horsely
Judi is a Champion for the Environment in every sense of the word. She is a lifelong learner who continually enriches her community by generously sharing her knowledge, wisdom, and talents.
A Certified Master Naturalist of the University of Illinois Extension Service, Judi has spread the message of protecting our environment and preserving our at-risk pollinators by distributing milkweed seed since 2013 at community special events and at her church, raising monarchs from eggs or larva since 2014 (raising and releasing 75 in 2018), teaching the church youth group how to raise monarchs, assisting with nature camps at Fullersburg Woods, and being a Trail Watch member for the Forest Preserve District of DuPage County.
Judi, with the help of her husband Michael, planted a native garden at their church that is now a certified Monarch Waystation, through Monarch Watch. She periodically makes presentations to the West Chicago Environmental Commission, including pitching the Mayor's Monarch Pledge, which was later adopted by Mayor Ruben Pineda. She was invited to take part in a three-day course sponsored by the partnership between the United States Forest Service International Programs, the Monarch Joint Venture, and the University of Wisconsin – Madison Arboretum on Monarch and Science Inquiry Learning.
Judi's efforts with West Chicago's monarch conservation contributed to the City receiving the 2019 America in Bloom (AIB) Best Pollinator Garden Program sponsored by Crown Bees.
The award was presented at the AIB Symposium in St. Charles by AIB Board Member and 1st Vice President, Leslie Pittenger. Her announcement read in part, "West Chicago welcomes pollinators in a big way with pollinator gardens throughout the City….They also created The Butterfly Effect, a public art project featuring 36 artist-designed butterflies displayed in public gardens throughout the City. The display promotes pollinator conservation and encourages the exploration of all corners of West Chicago".
Judi worked with Michael Gasparini, Superintendent of Parks of the West Chicago Park District on a grant for the design and implementation of a new pollinator garden at Easton Park, located at 840 E. Washington Street, both designed in the shape of a butterfly.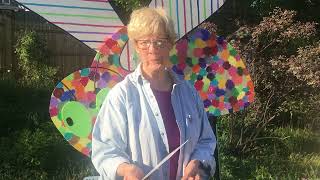 Billie Childress & Kerry Perry
West Chicago Garden Club members Billie Childress and Kerry Perry brought an award-winning idea of butterfly garden art to the Cultural Arts Commission in 2019, and with the help of People Made Visible and the America in Bloom Committee, the idea morphed into a spectacular public art project. Seven of the thirty-six butterflies "alighted" at the Kruse House Gardens which are lovingly tended by members led by Billie and Kerry.
"Few will forget the impact the butterflies had that year," said Rosemary Mackey, Marketing and Communications Coordinator for the City of West Chicago. "Residents and visitors spent time with family and friends visiting the 36 sites throughout the summer, and the project was recognized on a national stage at the AIB symposium."
Billie recalled the flutter created by the butterflies in bringing attention to the gardens. "We learned that year what an asset big art pieces were to our garden, in attracting more visitors who came to view the unique display and also then discovered the secret treasures of heirloom flowers and shrubs, as well as the history found at Kruse House Museum."
Fast forward to 2021, with a desire to shed the feelings of isolation that many experienced during the year of the pandemic, twelve West Chicago Garden Club members emerged like bees from a hive to reconnect over a community project that held the promise of excitement and fun for each, as well as the enrichment of the entire community. Again, Billie and Kerry were at the helm.
Visitors to the Kruse House Gardens this summer delighted in art bees with names like Bee Bodacious, Bee-dazzling, Polly Nader, and Bee-hemian Rhapsody. Created by green thumbs April Murphy, Kerry Dexter, Barb Bizzarri, Barb Melville, Jodi Otzwirk, Ruth Kyme, Dick Darrah, Scott Johnson, Kerry Perry, Pamela Darrah, Patti Zaputil, and Billie Childress, each bee features a unique theme and vibe and will be displayed with an interesting bee fact to help demystify and bring greater appreciation for the hard-working pollinator.
Mayor Ruben Pineda who reaffirmed the City's commitment to the monarch butterfly through the National Wildlife Federation Mayor's Monarch Pledge, was excited about the bee art display. "Bees are pollinators too," he said. "We're proud of the efforts of the Garden Club to bring this type of awareness to the community, not to mention the fun of discovering these bigger than life bees in the beautiful setting of the Kruse House Gardens…"
Sarah Bass
Resident hobbyists like Sarah Bass are doing their part. They are finding the tremendous rewards of raising bees in their backyards. Sara has been a beekeeper for five years, but acknowledges in presentations she makes at schools, public libraries and park districts, that no beekeeper "keeps bees" because they are wild and untamed by nature.
She sees herself rather as a steward of bee colonies, and by them, we are granted the opportunity to cultivate the art of observation (for in order to become a good keeper, you must learn to see the little things).
Sara's presentations have inspired an appreciation for bees, which aligns with the City's efforts to encourage environmental friendly habitats for these and other important pollinators.
Christine Tierney
Leading educational sessions at Sonny Acres Farms in West Chicago, resident, author, and entrepreneur, Christine Tierney created a hands-on demonstration for people of all ages interested in raising monarch butterflies. An avid monarch butterfly and milkweed enthusiast, Tierney takes every opportunity to educate others about the preservation and cultivation of pollinator habits.
Her passion for monarchs developed twenty years ago as a stay-at-home mom of three boys when she received a bouquet of milkweed intentionally containing hungry monarch caterpillars from a West Chicago neighbor and friend. The gift launched a desire to learn more about the monarch lifecycle, and to teach her children the joy of raising monarch butterflies.
The family began taking long walks in search of milkweed plants to feed their tiny caterpillars. This treasured summer tradition became the subject of her children's book, Flutterby My Butterfly, which tells the story of discovery, and the wonder of nature. According to the book's description, it "encourages readers to slow down, be present with one another and enjoy the quiet moments".