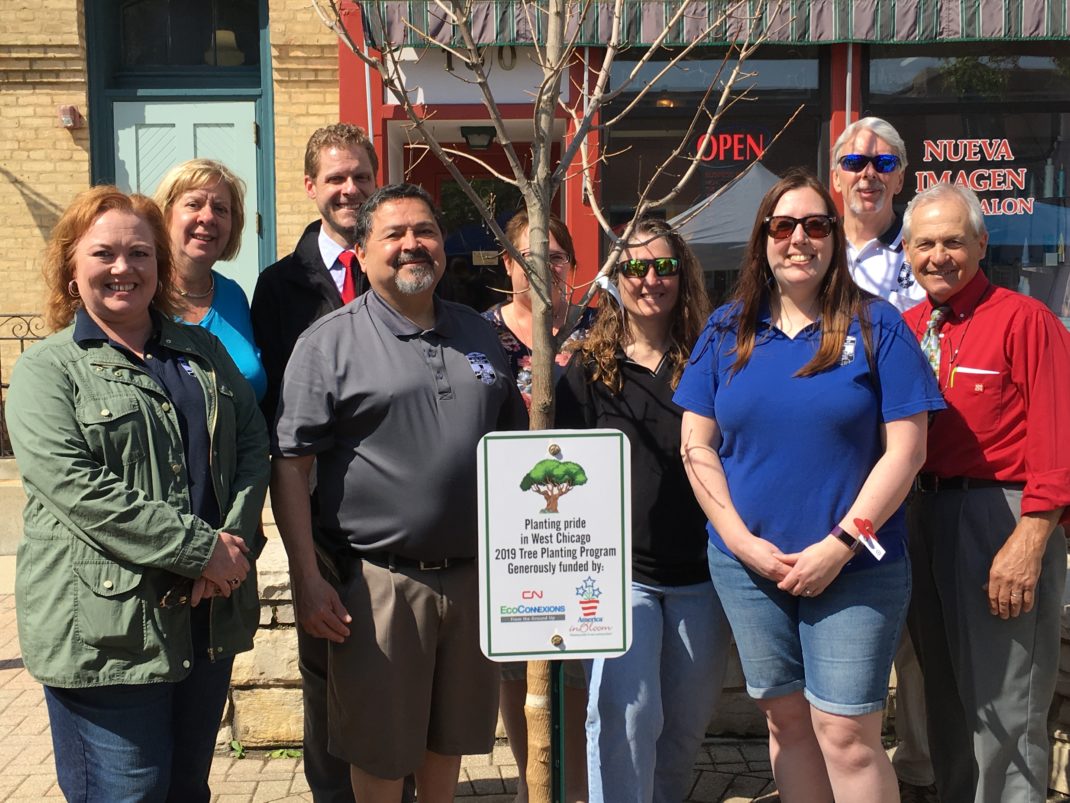 Leadership and Policy
As responsible environmentally conscious modern citizens, residents might expect to have tree-lined streets, and discover that many cities in the United States have "tree policies" of some sort. In West Chicago's Municipal Code, one may find not only the definition of the parkways, but also specific instructions on types of tree allowed along with their placement: trees not susceptible to disease, and those that are not prone to making large messes (like mulberry trees) as well as a variety of plantings are important. When the Dutch Elm disease hit the United States 50 years ago, many cities lost hundreds of side-by-side-planted trees that lined their streets. At one point in West Chicago's history, homeowners were expected to share the cost of the tree plantings and maintenance in addition to their property tax obligation, but currently the City pays this cost. So, how did West Chicago get such a tree policy?
In 1868 some land owners (Joseph and Mary McConnell, John Elliott, Edward Rees, Philip McGrath, Richard Murphy, Mary Lynch, Daniel Healy, Michael Cary and Mary Parkison) gave land for Arbor Avenue.
As they gifted this land, they included these stipulations in the legal document:
…reserving and stipulating that all the trees standing and growing within the bounds of said described new road shall be reserved and preserved alive and growing except a space in the center of said road two rods wide for a carriage way be cleared and graded, hereby decreeing that no person, shall have the right to cut down, dig up or wantonly mutilate said trees, but shall preserve them to ornament and beautify said Avenue.
145 years later West Chicago is still benefiting from their foresight. The City is very intentional about maintaining a diversified tree stock, replacing damaged or diseased trees, and identifying areas where the addition of a new tree is appropriate and makes landscape sense. By doing so, it keeps its tree stock healthy and, if done regularly, reduces the high cost of replacing a large number in one calendar year.
Landscape Standards Ordinance Related to Tree Stock Infested, Diseases, Dead, and/or Dying Trees
The devastation inflicted to West Chicago's tree stock by the Emerarld Ash Borer, and the resulting loss of trees from its activity, caused many of our tree-lined streets to have suddenly been stripped.
In 2011, once the discovery was made, the City took swift action. City crews immediately removed the trees before female beetles were able to lay any new eggs, spreading infestation, and an Ash tree inventory which identified approximately 1,992 parkway Ash trees, was completed on all City properties and rights-of-way.
An action plan was created to minimize environmental and financial impact of this threat to West Chicago's urban forest. Treating those larger, mature trees that could still be saved was part of the plan. City Council approved a contract with Emerald Tree Care, LLC for professional services related to the 2011 EAB Insecticidal Treatment Program.
A similar program, at the same unit pricing, was offered to residents, businesses, and/or property owners by Emerald Tree Care, under a separate contract agreement.
Chicago Region Trees Initiative
Initiatives with the West Chicago Park District
"West Chicago believes that trees provide many benefits and environmental services. These include improved air quality, energy cost savings, decreased storm water runoff, and intangible aesthetic values. When individual trees and whole tree populations are actively and properly managed, we anticipate that they will live longer and provide the most benefit to our Park District and public spaces in the surrounding community."
Gary Major, Executive Director, West Chicago Park District
Innovative Inventory of Trees
The West Chicago Park District has arranged with its Tree Care Contractor/Urban Forestry Consultant to perform updates on its existing Tree Inventory. The original tree inventory was performed in 2009, and indicated that it had approximately 2,200 trees at that time. A new inventory was completed in 2018.  Since then the District was able to remove all of the trees deemed to be removed.  A reforestation plan was put into place and the District now has 2,280 trees throughout managed areas. The District as a whole now is home to 150 different cultivars  of trees.
The tree inventory was originally captured in a Geographic information Systems (GIS) format. The Forestry Consultant used ArcGIS as a platform for viewing tree data, and managing the tree population. After this next update, Parks department staff will be able to perform periodic updates to the tree inventory to ensure that the tree data will stay current. The purpose is to better manage urban forestry efforts by eliminating high risk trees, prioritizing cyclical tree pruning operations, and identifying new areas for tree planting and future species selections. Efficiencies gained through the prioritization of work is expected to save the District money in the long term.
Dyer Nature Sanctuary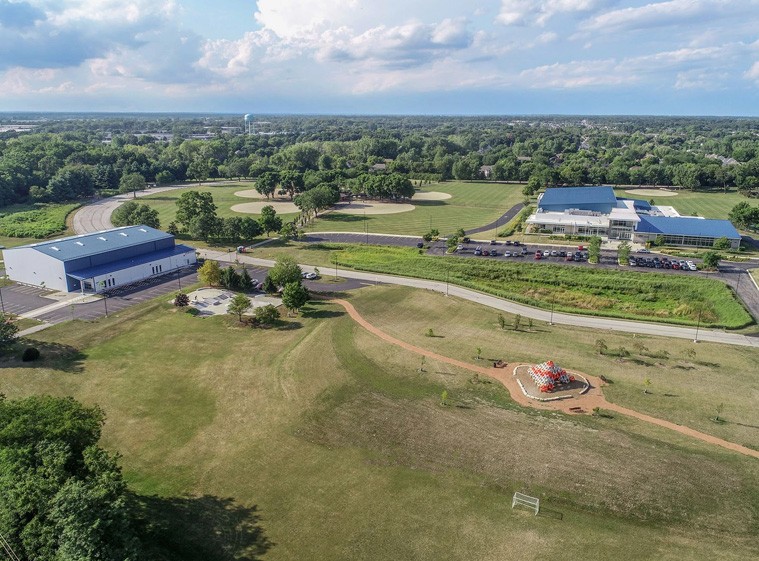 The West Chicago Park District values its wooded areas as recreational and educational. The Dyer Nature Sanctuary provides a half mile trail throughout for walking, biking, or for a serene stroll to appreciate all nature has to offer. Maintaining these types of areas can be a chore, however, the District is committed.
Recently the District cleared out a 40'x40' area to make way for 20 young indigenous trees. The District will continue to clear the path by cutting back trees and unwanted growth.
With the help of the Fire Protection District of West Chicago, the Park District performs prescribed burns through the Dyer Nature Sanctuary as weather allows. These prescribed burns help to manage overstocked wooded areas. Fire disturbances enhance and maintain the Dyer Nature Sanctuary's quality not only by eliminating overstocking but also keeping out any invasive and undesirable plants.
Tree thinning took place in 2018 as the forest was overstocked at the time. Thinning is needed to improve growth of the forest's canopy and help eliminate invasive species.
Park Staff has cleared out nearly half of the wooded section of the Dyer Nature Sanctuary of honeysuckle, buckthorn and other invasive species to make way for healthy undergrowth.  The Dyer Nature Sanctuary is also now contracted for prescribed burns yearly.
ARC Center Basin
The Arc Center detention basin was planted with native Illinois wetland species at the time of the Arc Center's Construction. Basic maintenance has been in place since it's inception. There is a fairly well established native vegetation cover which is estimated around 80‐85%.
There are some invasive and aggressive species encroaching on the area. In 2017 observations noticed a reduction in Reed Canary Grass and an increase in the other high quality natives on this site. The site also was over dominated by switchgrass. This site was burned in the fall of 2017.
In the 2018 season, early, mid and late season herbicide was applied with knowledge of species‐specific herbiciding. Selective mowing and hand-pulling also occurred. Installation of live plugs and/or over seeding occurs as necessary.
Weather permitting, prescribed burns occur with the help of the West Chicago Fire Protection District and/or mowing of the area to maintain high quality growth and control invasive species.
The Arc Center Basin was once overrun with switch grass.  Beginning 2021, Graf Natural Resources was contracted to slow the spread of these grasses.  Selective cutting early in the season took place in order to plant small colonies of native plugs to ease the switch grass dominance and increase native species diversity.  Three areas of 25 plants were selected for a total of 75 plugs planted.
Two New Butterfly Gardens at Reed-Keppler and Don Earley
Parks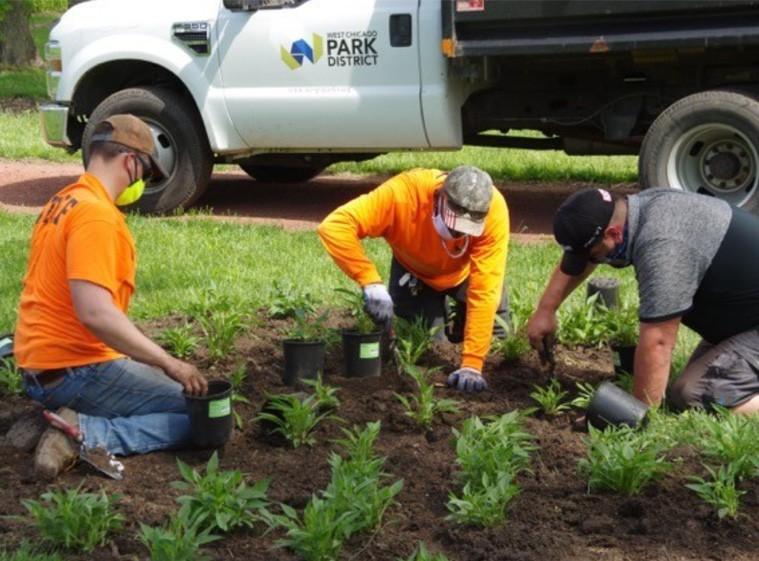 Attention all West Chicago butterfly lovers, and there are many. Two new public gardens have been designed and installed through a collaboration between the West Chicago Park District, the City of West Chicago, and resident and Master Naturalist Judith Horsley, who applied and received a grant on the Park District's behalf from the North American Monarch Institute (NAMI) in Madison, Wisconsin.
The gardens are located at Reed-Keppler Park, 129 National Street and Don Earley Park, 840 E. Washington Street. The Don Earley Park Monarch garden will serve as a "laboratory" for citizen-scientist involvement and as a potential site for a Monarch festival.  Community involvement with planting the garden was part of the proposal, however due to the COVID-19 pandemic was not possible and Park District staff undertook the job of planting.
As the West Chicago Park District offers summer camps from pre-school through 9th grade, as well as before and after school programs for elementary children, the educational component was a natural fit as various elements of the Monarch curriculum could be added to these programs on an age appropriate level. A seasonal program for adults is also planned. Stay tuned for more details in 2022.
Sorry, we couldn't find any posts. Please try a different search.