Nestled in the heart of the western suburbs, a mere 32 miles from downtown Chicago, West Chicago's ideal location places it within easy reach of the region's vast transportation networks—an appealing feature that both commuters and businesses have come to appreciate.
Easy access to three Illinois highways  provide residents and businesses with a link to the region's extensive system of interstate highways. Stretching east to west across northern Illinois, IL Route 38 (Roosevelt Road) and IL Route 64 (North Avenue) traverse the southern and northern borders of the city. Both routes converge with IL Route 59 and Interstate 355, ultimately offering a connection with Interstate 88.
Commuter rail transportation is available through West Chicago's Metra station, located at 580 W. Main Street. The Union Pacific West line offers a host of scheduled trains throughout the day, providing for a quick commute to Chicago's Ogilvie Transportation Center, along with a number of stops in between. A frequent train schedule makes it easy to maneuver throughout the area at an affordable cost.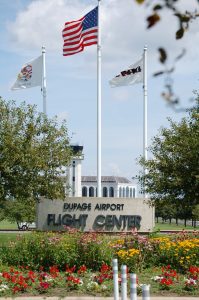 West Chicago's general aviation needs are exceedingly fulfilled with the establishment of DuPage Airport. Located between IL Route 64 and IL Route 38, this facility is one of the busiest airports in Illinois.
Those in need of regional, national and international transport have access to Chicago's O'Hare and Midway International airports. Both are situated approximately 45 minutes from West Chicago, and travelers can take advantage of a variety of limousine and shuttle services in the area for worry-free transportation to these busy airports.