The Museum regularly opens new exhibits focusing on specific themes of special interest to the community. The exhibits are meant to educate and engage using engaging media and insightful presentation.
Dairies to Prairies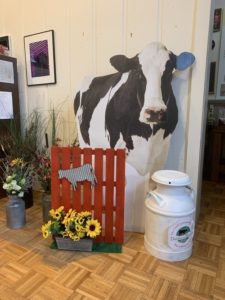 A traveling exhibit produced by the Elgin History Museum, now through April 27, 2019. Featuring connections to West Chicago's dairy and prairie past.
The kids' area features a barn, flip-the-cow dairy facts, and prairie flowers as tall as in real life!
Building Community
This exhibit is on the second floor of the museum. It is presented in English and in Spanish.
Building Community explores the founding and evolution of the town of Turner, Illinois. Originally referred to as "Junction," Turner was the location of the first railroad junction in Illinois. We are the birthplace of the Burlington Santa Fe railroad, as the first run by locomotive on that line went from Turner to Aurora. Turner changed its name to West Chicago in 1896 in an effort to draw more industry to the area. This semi-permanent exhibit also chronicles the experiences of the early settlers. How did they get to the area? What did they bring? What did they build? What did they do for fun?
Coming Soon:
Home
The City Museum will open its new exhibit, Home, on Saturday, May 18, 2019, during Blooming Fest. Home pairs contemporary artists with stories of those who have called West Chicago home throughout the history of the community. This exhibit will run through April of 2020.
Museum Staff

Sara Phalen - Executive Director
Maggie Cappetini - Museum Educator
Contact Information
City Museum
132 Main Street
West Chicago, IL 60185
Phone: (630) 231-3376
Hours of Operation
December – February
Thursdays 10:00 a.m. - 6:00 p.m.
Fridays 10:00 a.m. - 2:00 p.m.
Saturdays closed
March – November
Thursdays 10:00 a.m. - 6:00 p.m.
Fridays and Saturdays 10:00 a.m. - 2:00 p.m.
Related
Friends of the City Museum Newsletter
Visit the Friends of the City Museum's website, http://www.wegohistory.com for the Museum's free eBook and more.