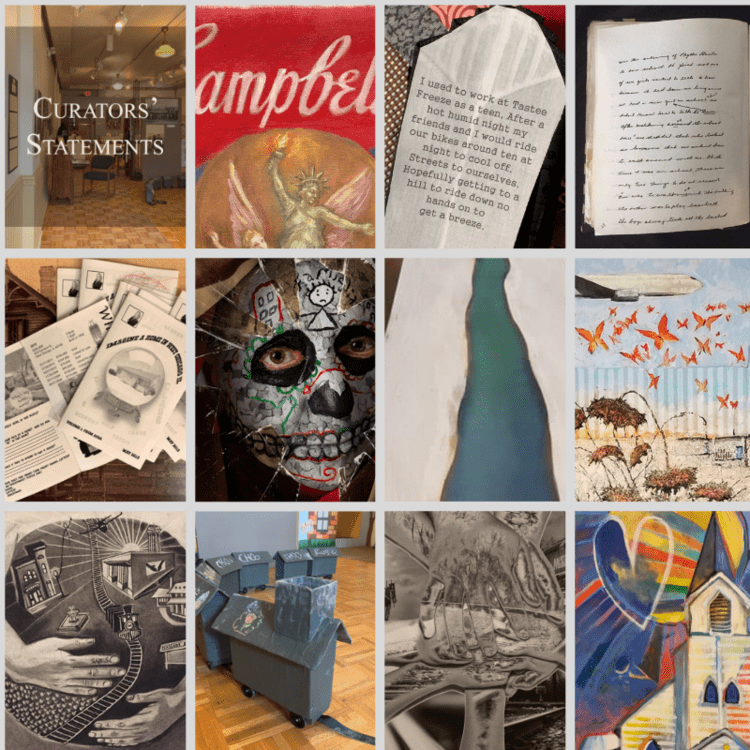 The Museum regularly opens new exhibits focusing on specific themes of special interest to the community. The exhibits are meant to educate and engage using engaging media and insightful presentation.
Home
Artists explore the meaning of "home" as it applies to the history of West Chicago though eleven new works of art. This exhibit includes items from our collection to help support the artists' interpretations. Learn more about the artworks here. Visitors are encouraged to participate in interactive elements of the exhibit. Our children's area includes a doll house and maps where you can locate your current and former homes, or the homes of your ancestors. This exhibit will run through April of 2020.
Building Community
This exhibit is on the second floor of the museum. It is presented in English and in Spanish.
Building Community explores the founding and evolution of the town of Turner, Illinois. Originally referred to as "Junction," Turner was the location of the first railroad junction in Illinois. We are the birthplace of the Burlington Santa Fe railroad, as the first run by locomotive on that line went from Turner to Aurora. Turner changed its name to West Chicago in 1896 in an effort to draw more industry to the area. This semi-permanent exhibit also chronicles the experiences of the early settlers. How did they get to the area? What did they bring? What did they build? What did they do for fun?
Previous Exhibits
Dairies to Prairies
A traveling exhibit produced by the Elgin History Museum, through April 27, 2019. Featuring connections to West Chicago's dairy and prairie past.
The kids' area features a barn, flip-the-cow dairy facts, and prairie flowers as tall as in real life!
Museum Staff

Sara Phalen - Executive Director
Contact Information
City Museum
132 Main Street
West Chicago, IL 60185
Phone: (630) 231-3376
Hours of Operation (Winter Hours)
Thursdays - 9:00 a.m. - 5:00 p.m.
Fridays - 10:00 a.m. - 2:00 p.m.
Those interested may schedule an appointment for a tour or research at other times by calling (630) 231-3376 or emailing wegohistory@gmail.com.
*Please note: Masks are required.
Related
Visit the Friends of the City Museum's website, http://www.wegohistory.com for the Museum's free eBook and more.