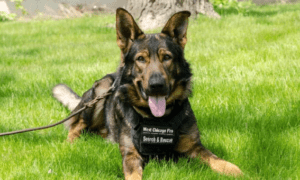 On June 15, the West Chicago Fire Protection District's Rescue K-9, Thor, and his handler Firefighter/Paramedic, Todd Baseggio, were were requested by the Homer Glen Fire District and the Illinois State Police to assist at an accident that had occurred in the late evening along I-355.
The motorist of the vehicle involved in the accident was unable to be found at the scene, which led to the need for Thor and his handler to assist. Upon arrival, Thor was able to obtain a scent from the driver's seat which allowed him to track the scent into an area of thick brush.
With the assistance of Thor, along with drone and thermal imaging technology, first-responders were able to find the motorist several hundred yards away from the accident and were able to perform life-saving measures to save the victim.
Without Thor's rescue K-9 assistance, this person may not have been found in time to be saved.