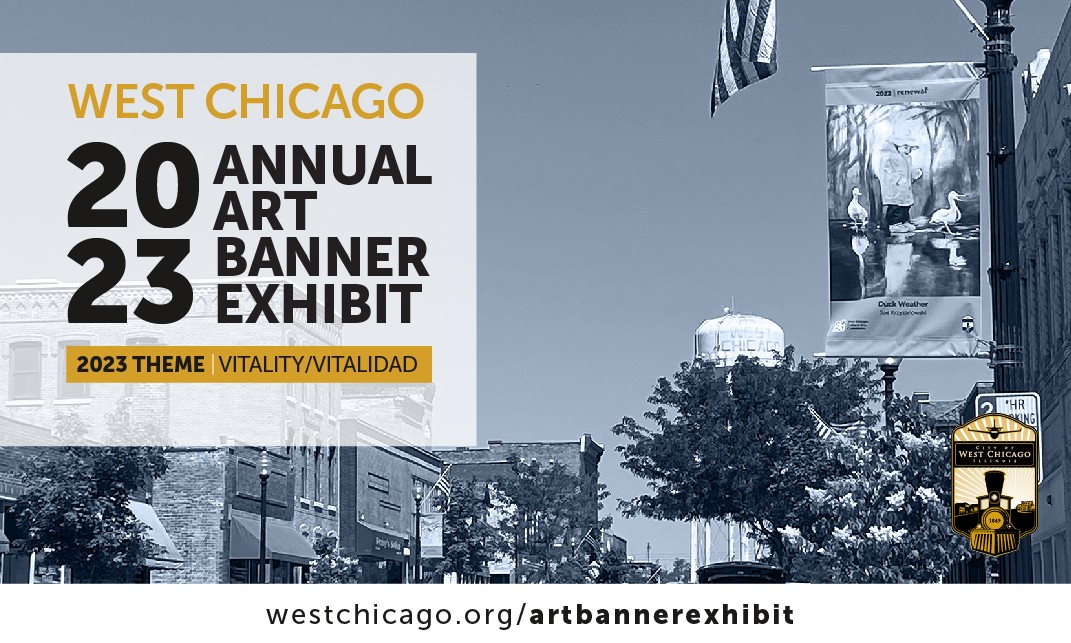 The City of West Chicago is now accepting artwork submittals for the 2023 Art Banner Exhibit. The City welcomes all local artists, and artists abroad, to participate in this year's exhibit which will be celebrating its 15-year anniversary in 2023.
Interested artists may submit their artwork by visiting the City's website at westchicago.org/artbannerexhibit. Participants will be able to submit up to three separate artworks that represent this year's theme, Vitality/Vitalidad. All types of media are welcome for submittal providing they correlate with the chosen theme. There is no cost to enter artwork, or to be part of the exhibit. The deadline for submittal is Wednesday, January 18. [The deadline for submittal has been extended to Tuesday, February 14.]
After the end of the artwork submittal period, artwork will then be judged with 24 artworks being selected to be part of the City's exhibit.
Selected artwork is displayed on banners installed on the City's streetlight poles in the downtown area, and during the City's Blooming Fest event. Throughout the exhibit, the public is encouraged to vote on their favorite artwork. The artwork with the highest number of votes at the end of the exhibit is then honored with the title of the "People's Choice Award" winner.
The City of West Chicago's Art Banner Exhibit is an annual community project that is organized by the City of West Chicago and the City's Cultural Arts Commission. Each year, this exhibit draws attention from artists across the country.  In 2022, the City received 90 different submissions for the exhibit from 43 different artists from 19 different communities.
Visit westchicago.org/artbannerexhibit for more information about the exhibit, or to view the selected artwork from 2022 including last year's "People's Choice Award" winner artwork.