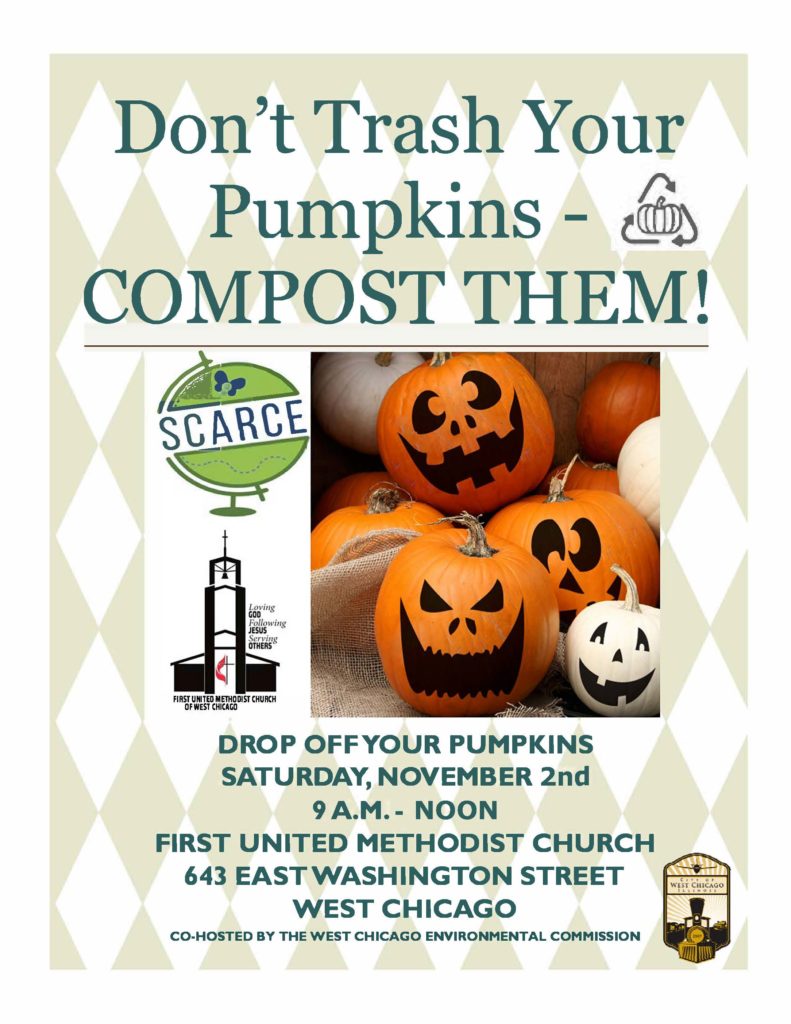 November 2, 2019
First United Methodist Church
643 E. Washington Street on Saturday
9:00 a.m. – noon
Pumpkin collection is an annual effort by communities in Illinois to divert pumpkins from landfills by providing locations for residents to drop-off pumpkins to be composted.
The West Chicago Environmental Commission and the Green Disciples of the First Untied Methodist Church of West Chicago have teamed up again in 2019 to collect pumpkins for composting.
Why should we all do this? Decomposing organics make landfills the third largest producers of methane gas. About two-thirds of landfill waste contains biodegradable organic matter from households, businesses, and industries. As this material decomposes, it releases methane gas. As a potent greenhouse gas, methane traps up to 20 times more heat in the atmosphere as compared with carbon dioxide. Reducing methane reduces greenhouse gas.
Composting returns nutrients and water back to the soil – pumpkins are nutrient rich! They are ninety percent water making pumpkins good for our soil, but bad for our landfills.
Most of the pumpkins processed in the United States are grown in Illinois. Composting pumpkins will keep the water and nutrients here where they are grown.
Remind relatives, neighbors, and friends to bring their decaying pumpkins to the First United Methodist Church, 643 E. Washington Street on Saturday, November 2nd from 9:00 a.m. – noon. Volunteers will be on hand to help with tossing pumpkins into the specified dumpster.