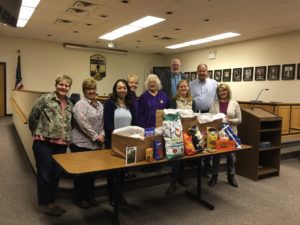 Catholic Daughters of America (CDA) celebrates Make a Difference Day each year by delivering treats to a chosen community organization. This year, the employees of the City of West Chicago were chosen as recipients for their service to the community.
CDA's Regent, Trini Cantu and Member Sylvia Mosier made the delivery of three boxes of snacks to City Hall. Staff appreciated the kind words and will certainly enjoy the large variety of snacks in the weeks ahead.
The City thanks the CDA for this unexpected recognition.