The following information is from the Centers for Disease Control.
Contact tracing is used by health departments to prevent the spread of infectious disease. In general, contact tracing involves identifying people who have an infectious disease (cases) and people who they came in contact with (contacts) and working with them to interrupt disease spread. This includes asking people with COVID-19 to isolate and their contacts to quarantine at home voluntarily.
Contact tracing for COVID-19 typically involves
Interviewing people with COVID-19 to identify everyone they had close contact with during the time they may have been infectious
Notifying contacts of their potential exposure
Referring contacts for testing
Monitoring contacts for signs and symptoms of COVID-19
Connecting contacts with services they might need during the self-quarantine period
To prevent the further spread of disease, people who had contact with someone with COVID-19 are encouraged to stay home and maintain social distance (at least 6 feet) from others until 14 days after their last exposure to a person with COVID-19. Contacts should monitor themselves by checking their temperature twice daily and watching for symptoms of COVID-19.
Read more here.
El rastreo de contactos es utilizado por los departamentos de salud para prevenir la propagación de enfermedades infecciosas. En general, el rastreo de contactos consiste en identificar a las personas con alguna enfermedad infecciosa (casos) y a las personas que han estado expuestas (contactos) y trabajar con ellos para interrumpir la transmisión de la enfermedad. Esto incluye pedirles a las personas infectadas por COVID-19 que se aíslen y a sus contactos que respeten la cuarentena y se queden en sus casas de manera voluntaria.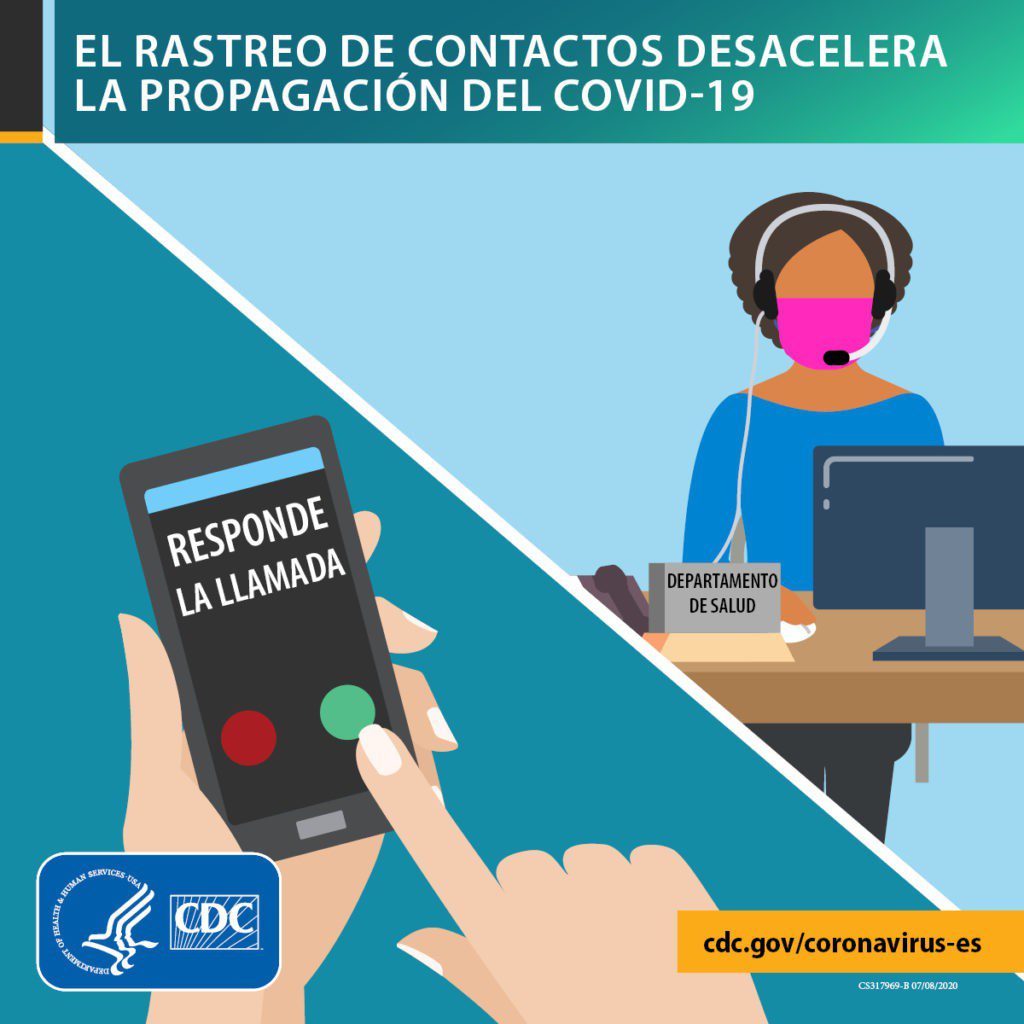 El rastreo de contactos por COVID-19 por lo general incluye
Entrevistar a las personas con COVID-19 para identificar a todas las personas con las que han tenido contacto cercano durante el tiempo que pudieron haber sido infecciosas
Notificar a los contactos de su posible exposición
Remitir a los contactos para que les realicen las pruebas
Monitorear a los contactos para detectar signos y síntomas de COVID-19
Conectar a los contactos con servicios que podrían necesitar durante el periodo de autocuarentena
Para prevenir una mayor propagación de la enfermedad, se recomienda a las personas que tuvieron contacto con personas con COVID-19 que se queden en sus casas y mantengan distancia social (al menos 6 pies) de los demás hasta 14 días después de la última vez que hayan estado expuestas a una persona con COVID-19. Los contactos deberían monitorearse a sí mismos para controlarse la temperatura dos veces por día y los síntomas de COVID-19.
Lea más aquí.