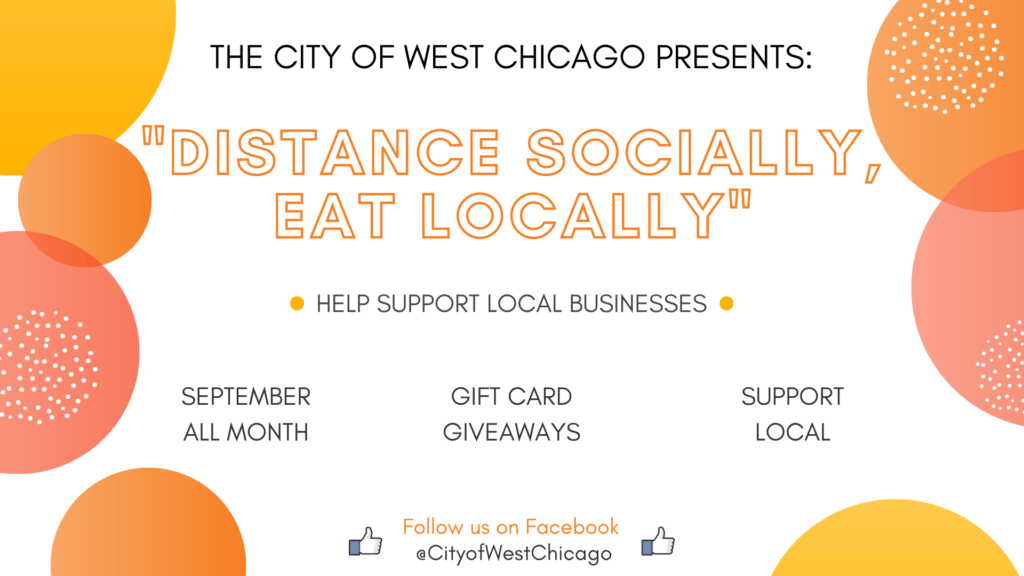 Bingo Game Sheet – .pdf 45kb
West Chicago Restaurant List – .pdf 429kb
Due to the Executive Proclamation issued by Mayor Ruben Pineda regarding COVID-19 and continuing concerns for public health and safety, the City of West Chicago cancelled special events previously scheduled for 2020, including the West Chicago Food Fest.
While certainly disappointing, a creative programming alternative was developed that focuses on the many great West Chicago restaurants and offers a fun yet safe way to support local businesses.
Distance Socially, Eat Locally is a campaign being promoted for the month of September in lieu of the West Chicago Food Festival. This virtual food event takes place through social media, with 10 gift cards valued at $25 each to be given away.
People can enter by "liking" and following the City's Facebook page for a chance to win while helping to support a West Chicago business.
In addition to the gift cards, a Distance Socially, Eat Locally Bingo game has been designed, and offers the chance to win one of three $100 gift cards to a Downtown West Chicago restaurant.
For more information about Distance Socially, Eat Locally, visit www.facebook.com/CityofWestChicago.