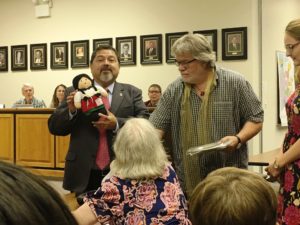 A recent visit from thirteen students and four adults from Taufkirchen (Vils) Germany strengthened a long-standing relationship with West Chicagoans through the West Chicago Sister Cities organization.
Since 1999, citizens from both Sister Cities countries have pledged their friendship and enjoyed fellowship through exchange visits over the years. Last month, the German group arrived for a seven-day visit, enjoying warm hospitality shown by host families and an itinerary of exciting activities for the duration of their trip.
Highlights of the visit included day trips to Cantigny Park, a Cougars baseball game and a two-day trip to Springfield, Illinois to tour the State Capital and visit the Illinois State Museum, Old State Capitol, the Lincoln Home and area, and the Lincoln Presidential Museum.
The City's guests were also honored at a gathering at City Hall prior to the City Council meeting on September 4, 2018. The evening included a buffet dinner catered and donated by a new West Chicago business, Los Comales, 200 S. Neltnor Blvd. The business provided delicious, traditional Mexican fare including a variety of freshly prepared tacos, rice, beans and more, as well as a beautiful memento of the evening, a limited edition Los Comales doll which was presented by Mayor Ruben Pineda to Bodo Gsedl who represented the German contingent. Also presented by Mayor Pineda were a Proclamation from the City of West Chicago and a pewter plate from the City Museum which depicts the historic Gary's Mill School.
Next year West Chicago and Taufkirchen (Vils) celebrate the 20th Anniversary of their sister city relationship, and plans are already underway to mark the occasion in a significant way.
For more information about West Chicago Sister Cities, including photos of the recent visit, log in to www.facebook.com/WestChicagoSisterCities.