Dear fellow community members,
As we continue adjusting our lives to the new normal created by the COVID-19 pandemic of staying home, frequent hand washing, and social distancing, I would like to take this opportunity to recognize and thank all of the people on the front line who are providing support for our community. These include our healthcare professionals, our first responders, grocery store workers, garbage collectors, pharmacy employees, City staff, and employees of the many companies manufacturing essential goods and equipment who are leaving the safety of their homes to serve the greater community.
Many have compared our current reality to that of being at war with an invisible enemy, and the men and women who are on the frontlines, as warriors. It is an accurate analogy. The current spread of the disease, and the shortage of critical supplies like masks, gloves and other protective gear, adds a layer of danger and distress for those who venture to work with the public. The faceless virus may present itself to them across a checkout line at the grocery store, a bank teller window, or a hospital bed. Not to mention the added burden of not knowing whether they are bringing the deadly virus home to their families at the end of their shift.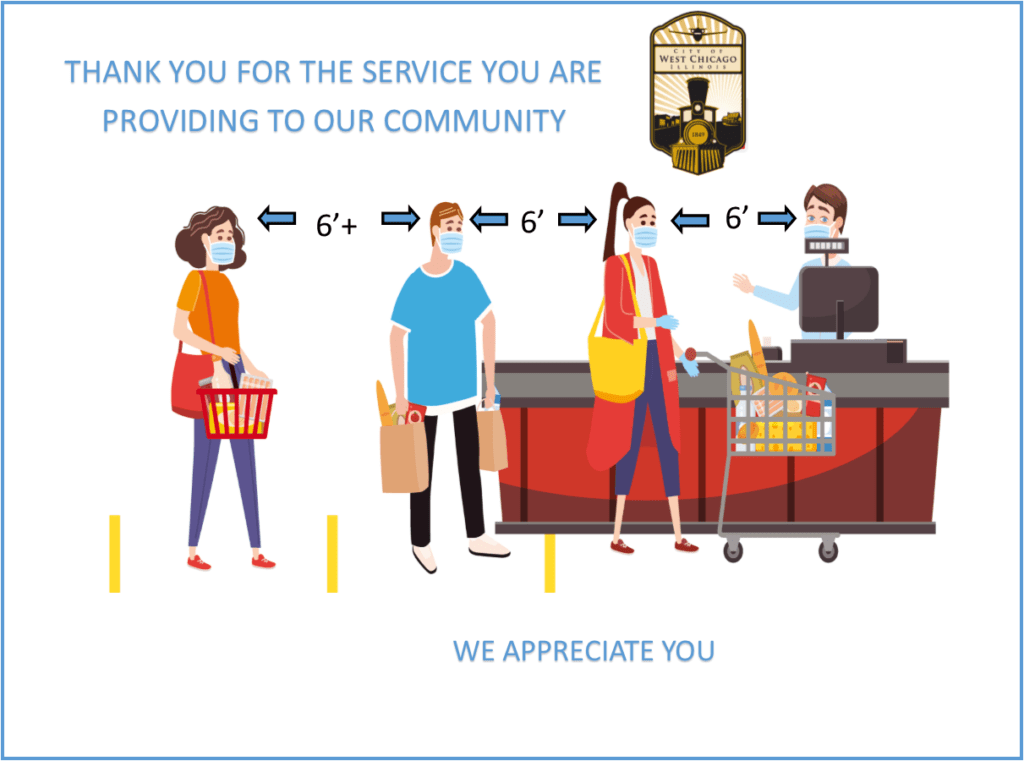 These warriors not only deserve our respect and gratitude, they deserve our compliance in living the new normal to mitigate the spread of the disease and their exposure. We must support them by following every prevention guideline, just as they are supporting us by risking their lives. Stay at home, save a life is not just a catchy slogan. It is a meaningful way in which we can serve as the auxiliary forces to these frontline heroes.
Please remember the following recommendations from the Centers for Disease Control and Prevention:
Stay home if you can.
Cover your mouth and nose with a tissue when you cough or sneeze, or use the inside of your elbow. Throw used tissues in the trash. Immediately wash your hands with soap and water for at least 20 seconds. If soap and water are not readily available, clean your hands with a hand sanitizer that contains at least 60% alcohol. Cover all surfaces of your hands and rub them together until they feel dry.
Wear a facemask when going outdoors.
Clean AND disinfect frequently touched surfaces daily. This includes tables, doorknobs, light switches, countertops, handles, desks, phones, keyboards, toilets, faucets, and sinks. If surfaces are dirty, clean them: Use detergent or soap and water prior to disinfection.
Avoid touching your eyes, nose, and mouth with unwashed hands.
Put six feet of distance between yourself and other people. Remember that some people without symptoms may be able to spread virus. Keeping distance from others is especially important for people who are at higher risk of getting very sick.
We must remain united to win this war. Together we will prevail.
Respectfully,
Ruben Pineda
Mayor
____________________________________________________________________________________________________________________________________________________________
Queridos compañeros miembros de la comunidad,
Mientras nosotros continuamos ajustando nuestras vidas al nuevo normal creado por la pandemia de COVID-19 de quedarse en casa, lavarse las manos, y distanciamiento social, quiero tomar esta oportunidad para reconocer y agradecerle a toda la gente al frente quienes están proporcionando apoyo para nuestra comunidad. Ellos incluyen a nuestros profesionales de atención médica, nuestros profesionales de primeros auxilios, trabajadores de supermercados, colectores de basura, empleados de farmacia, personal de la Ciudad, y empleados de las muchas compañías fabricando mercancía y equipo esencial quienes están dejando la seguridad de sus hogares para servir a la comunidad.
Muchos han comparado nuestra realidad actual a la de estar en batalla con un enemigo invisible, y los hombres y mujeres quienes están al frente, como guerreros. Es una analogía precisa. La propagación corriente de la enfermedad, y los escases de suministros críticos como tapabocas, guantes y otro equipo de protección, agrega a la capa de peligro y la angustia para aquellos quienes se arriesgan ir a trabajar con el público. El virus sin rostro puede presentárseles a ellos a través de una caja en el mercado, una ventana de cajero de banco, o una cama de hospital. Sin mencionar la carga añadida de no saber si están trayendo el virus mortal a sus familias al final de su turno.
Estos guerreros no solamente merecen nuestro respeto y agradecimiento, ellos merecen nuestro cumplimiento en vivir el nuevo normal para mitigar la propagación de la enfermedad y su exposición. Nosotros debemos apoyarlos al seguir cada guía de prevención, igual como ellos están apoyándonos al arriesgar sus vidas. Manténgase en casa, salve una vida no solamente es un eslogan pegadizo. Es una manera significativa en el cual podemos servir como las fuerzas auxiliares a estos héroes al frente.
Por favor recuerde de seguir las siguientes recomendaciones de los Centros de Control y Prevención de Enfermedades:
Manténganse en casa cuando pueda.
Cubra su boca y nariz con un pañuelo desechable cuando tosa o estornude, o use la parte de adentro de su codo. Tire los pañuelos desechables en la basura. Inmediatamente lave sus manos con jabón y agua por lo menos 20 segundos. Si el jabón y agua no está disponible, limpie sus manos con un desinfectante de manos que contiene por al menos 60% de alcohol. Cubra todas las superficies de sus manos y frótelas hasta que se sientan secas.
Póngase un tapabocas cuando vaya afuera.
Limpie Y desinfecte superficies frecuentemente tocadas. Esto incluye mesas, pomos, interruptores, mostradores, manijas, escritorios, teléfonos, teclados, inodoros, grifos, y lavabos. Si las superficies están sucias, límpielas: Use detergente o jabón y agua antes de desinfectar.
Evite tocarse los ojos, nariz, y boca con manos sin ser lavadas.
Ponga seis pies de distancia entre usted y otra gente. Recuerde que alguna gente sin síntomas puede propagar el virus. Manteniendo distancia de otros es especialmente importante para gente quienes están en alto riesgo de ponerse muy enfermos.
Notros debemos mantenernos unidos para ganar esta batalla. Juntos prevaleceremos.
Respetuosamente,
Ruben Pineda
Alcalde