CANCELLED DUE TO COVID-19
On-site Paper Shredding Event
June 6, 2020 – 9:00 a.m. – 12:00 p.m.
City Hall Parking Lot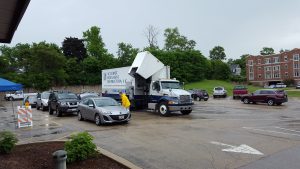 Originally scheduled for Saturday, June 6, 2020, the on-site paper shredding event sponsored by the West Chicago Environmental Commission, has been cancelled for this date and will be rescheduled for a future date due to COVID-19.
Accurate Document Destruction, Inc. of Elk Grove Village provides the shredding service. Last year 13,660 pounds or 6.83 tons of paper were destroyed. Trained professionals destroy confidential materials on the premises in a matter of minutes while those taking advantage of the free service can watch. The process ensures that personal and financial documents are destroyed in a safe, secure and environmentally responsible manner.
Local residents and businesses may bring up to 10 boxes for on-site document shredding.
The new date for the On-site Shredding Event will be announced as soon as it is determined.