Has your garden gone quiet, the hum and buzz of busy pollinators a faint whisper? Do you remember summer nights driving through clouds of insects but now arrive home with a clean windshield? Do you miss the enchantment of watching the flash and glimmer of fireflies?
While we've been busy doing human stuff, pollinators and insects have been quietly disappearing. For years the decline went unnoticed. Insects are small, many live outdoors and often the everyday human insect interactions are annoying, ants in the kitchen, mosquitoes in the yard, yellow jackets threatening a picnic. Hard to miss something you want to avoid.
Though often overlooked, insects are the keystone of life, a pivotal connection between plants and animals. Our lives are being diminished by their decline.
A growing number of studies confirm insects are declining in abundance with a number of species in danger of extinction. Insects in general are declining but the ones commanding the most attention are pollinators, a group that includes bees, butterflies, moths, beetles, ants and flies. Pollinators in Peril, a report prepared by the Center for Biological Diversity in 2017 found that 24% of native bees are imperiled and population declines are occurring in 52% of native bee species. In Illinois, the Illinois Butterfly Monitoring Network has found a 30% decline in butterfly abundance since 2000.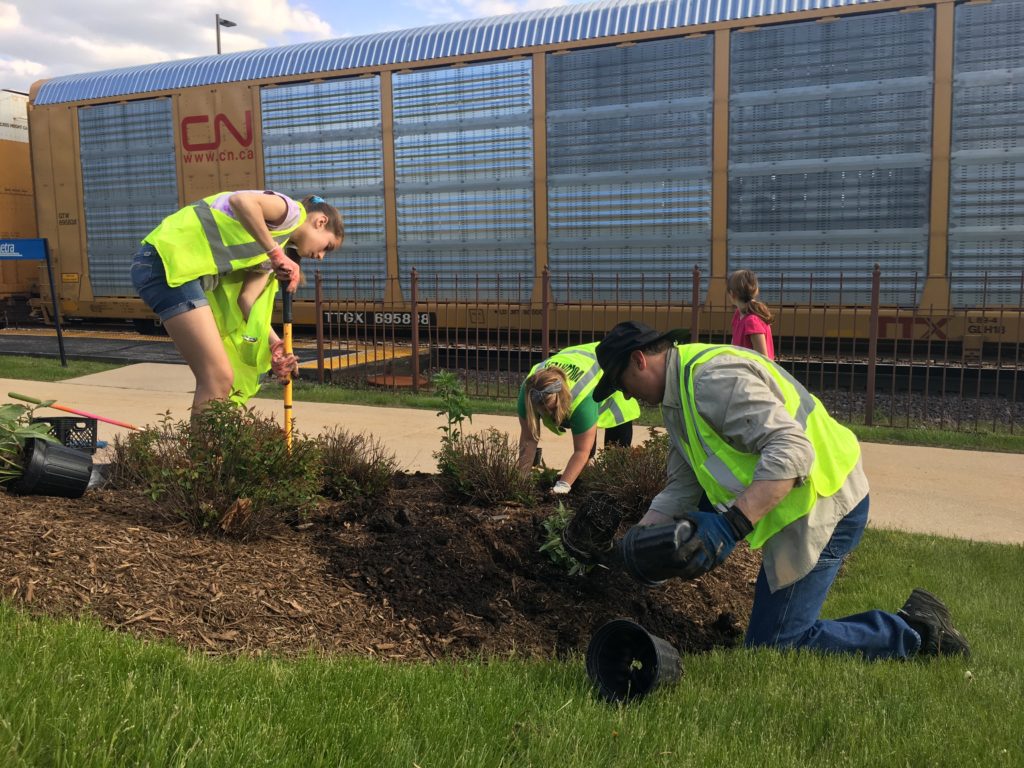 West Chicago is doing its part to help. Since 2017 when he signed the Mayor's Monarch Pledge, Mayor Ruben Pineda has taken a lead role in advancing awareness and support for the importance of providing Monarch-friendly habitats throughout the City. The most recent example of this is a new pollinator garden at Sesquicentennial Park planted by City leaders and community volunteers. Advocacy through groups like the Green Disciples of the First United Methodist Church, the DuPage Monarch Project, the West Chicago Environmental Commission, America in Bloom of West Chicago, People Made Visible, Community High School District 94, and others are making a difference.
A grant received earlier this year by the City allowed the showing of a visually beautiful conservation film titled The Guardians to High School Science and Language classes, as well as to the community at large at Gallery 200. Attendance was amazing, with some people coming from Elgin and other suburbs. Following a welcome message from Mayor Pineda, those in attendance watched in rapt silence as the story of an indigenous Mexican community struggling to survive and protect their forest habitat unfolded. Following the film, special guest Michael Rizo, Urban and Community Program Specialist for the US Forest Service, answered questions posed by audience members. Additional showings of the film may be arranged through People Made Visible, the not for profit arts group which oversees Gallery 200 activities.
Human activity has created the conditions negatively impacting insects. The causes are known, primarily loss of habitat, widespread pesticide usage and changing weather patterns. Each one of us can be part of the solution. Helping begins with understanding. One of the best ways of understanding the natural world is to spend time in it, looking closely, listening carefully, being curious, noting changes, asking questions and finding answers. Eric Simons, an editor for Bay Nature, a science magazine based in San Francisco says, "You can go for a walk outside and just pay attention to what's around you." It sounds simple, but Simons says that noticing your surroundings is the first step to noticing changes. "The natural world needs witnesses, now more than ever."
There are many resources available for those wishing to learn more. Please visit, https://pollinator.org/; https://xerces.org/; or https://monarchjointventure.org/ for more information.
*Note: Some of the content for this press release is credited to Lonnie Morris, the coordinator for the DuPage Monarch Project, a partnership organization of the Forest Preserve District of DuPage County, River Prairie Group of the Sierra Club, The Conservation Foundation and Wild Ones Greater DuPage Chapter. More information about DuPage Monarch Project may be found at https://dupagemonarchs.com/.