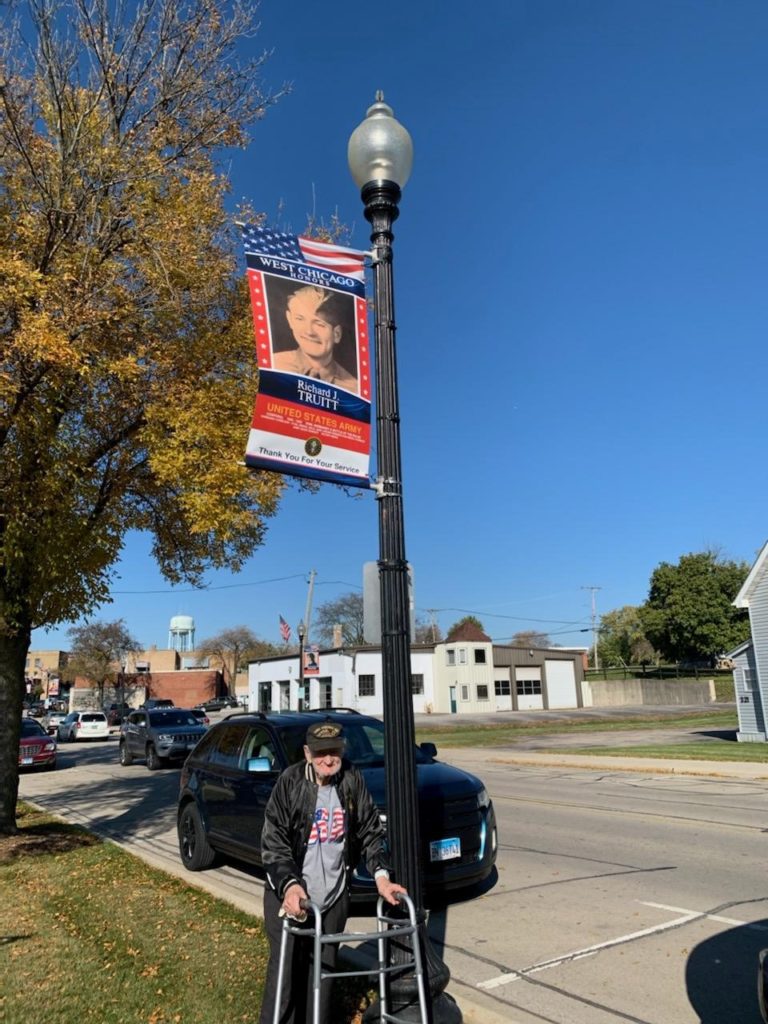 A pilot program to honor West Chicago veterans has become a touchpoint for the gratitude and esteem the community feels for its local heroes this Veterans Day. Nineteen custom designed street banners, bearing the images of West Chicago veterans past and present were installed on Main Street last week and have already captured the attention of many who have responded positively to the tribute.
The red, white and blue banners contain the veteran's branch of military, years of service, and any honors or awards received, as well as a statement of thanks for their service. Veterans of WWII, the Korean War, Vietnam War and Operation Iraqi Freedom were included.
Outreach for the project, spearheaded by community resident Judy Knaak and Third Ward Alderman Christine Dettmann, was done through the American Legion, VFW, and through social media and other City communications. Within three days, the total number of veterans sought for the first year was met, and the layout and production process for the banners was set in motion. Included in this year's display are: Thomas E. Tillman, Alton S. Hallett, Charles A. Scheckel, Jr., David L. Russell, Diane Madden Ferguson, Donald L. Smith, Gerardo Serriteno, John Johnston, LaVoy Hensel Schneider, Charles Kaelin, Don Berkes, Donald Earley, Herbert Mertes, James Carter, James P. Colford, Joseph Schweihs, Max Hammond, Richard J. Truitt, and Ramon Bejarano.
An interactive map featuring each banner and its location has been created and is available online. The map will serve those who wish to take a walking tour down Main Street, or for those who are homebound and wish to view the display. Also, family members who live out of state, and transplanted West Chicago veterans, may access the tribute through the online map.
"We are gratified by the response we have received to honor our veterans through this program," said Mayor Ruben Pineda. "We have already gotten phone calls from West Chicagoans now living in California, Tennessee and Minnesota who heard about the program and called to thank the City for putting this together."
Mayor Pineda credits the civic engagement that brought a resident's idea to the attention of her elected representative, and his Council member's eager involvement with its implementation. "This project illustrates what can be accomplished when citizens and local government work together. Thank you Ms. Knaak and Alderman Dettmann."
Mayor Pineda hopes the program will grow in the coming years so more veterans can be recognized. "We hope to add to the display in the years ahead and continue the tradition of remembering the brave men and women who have served our country over the years and secured the freedom we enjoy today."
The banners will hang on Main Street through November of this year, and return for patriotic display each year.