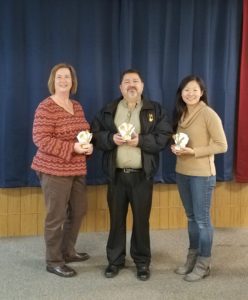 West Chicago's first ever Food Festival was met with great enthusiasm by those attending. From lifelong residents to new families to visitors from outside of the community, smiling faces were the common denominator as people waited in line to sample a wide array of food offerings.
Musical entertainment, sunny skies and kid friendly activities added to the good cheer on Main Street. Also, a competition that was open to all registered food vendors of the festival added to the excitement.
The judges were carefully selected for their culinary knowledge and commitment to the West Chicago community:
Jeannie Iseman, Executive Director at The GardenWorks Project
Lisa Marie Vogt, Member Services at the Western DuPage Chamber of Commerce
Ruben Pineda, Mayor at the City of West Chicago
Names and business information remained anonymous during the judging process. Judges ranked each entry for overall taste. The entry with the highest cumulative score was awarded in each of three categories: Best Main Dish, Best Side Dish, and Best Sweet Treat.
The winning business and menu item follow:
Best Main Dish
Awarded to: Los Comales
Entry: Taco
Best Side Dish
Awarded to: Pierogi Jo's
Entry: Classic Potato Pierogi with Jo's Kraut
Best Sweet Treat
Awarded to: Cookies w/Flavor
Entry: Blissful Brownie
For more information about the City of West Chicago's special event calendar, visit www.westchicago.org.