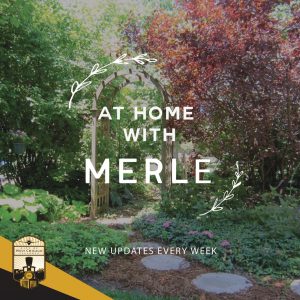 Again we seem to be having the extreme weather. For a while we have extremely hot temperatures. Then the temps drop, sometimes even in the 40s at night or early morning. When I do my laundry, I can see the changes in temperatures. However, the West Coast is going through extremely long periods of hot weather, breaking heat records. This makes our temperatures much more bearable.
A true negative is the possibility of a tornado, which we had Sunday. Basements were in use then. We were fortunate, but residents of Woodridge and Naperville suffered severe damage. The drops of rain did not alleviate the drought conditions. When it pours like that, so much of the water runs off rather than penetrating the ground. The weather is something we cannot control, but it is a great and often used conversation topic, as evidenced by this week's column.
AROUND AND ABOUT
The West Chicago Garden Club meeting is Thursday, June 24, 2021, at St. Andrew Lutheran Church, 155 North Prince Crossing Road. Social time is at 6:45 p.m., short business meeting at 7:00 p.m., and program at 7:15 p.m. Carol Cichorski presents the program, "A few of my favorite things!" She is past president of the Elk Grove Garden Club, speaks regularly at the Chicago Flower and Garden Show and writes a gardening blog. (www.merleburl.com)
West Chicago Park District holds a Pickleball Skills Clinic from 10:00 a.m. to noon Friday, June 25, 2021, at the ARC, 201, West National Street. It is for ages 10 and up. The cost is $15 for residents, $18 for non-residents. To register, visit www.we-goparks.org. Some of the basic skills covered include posture, ready position, grip, paddle angle, serve and return of serve, forehand and backhand shots, court positioning, twos-bounce rule, scoring and basic strategy.
During the summer, Fun Fridays return to The Shell from 11:00 a.m. to noon in Reed-Keppler Park, 129 West National Street. Entertainment includes a variety of performances such as a animals, magic, music and science. Mad Science takes the stage June 18, 2021. To view the schedule, visit West Chicago Park District website www.we-goparks.org. (www.merleburl.com)
The West Chicago Library offers a way to learn more about Girl Scouts and how to become a member. Girl Scout To-Go bags are available from 10:00 a.m. to 4:00 p.m. Saturday, July 26, 2021, outside or in-person at the library, 118 West Washington Street. The offer is for girls in grades kindergarten and first grade and only is good while supplies last. (www.merleburl.com)
Glen Arbor Community Church and Inglesia Bautista Piedra Aguilar host a Neighborhood Block Party from 2:00 to 7:00 p.m. Saturday, June 26, 2021, at the church location, 204 Church Street. The event for everyone in the community takes place rain or shine. Activities include live music, bouncy house, games for children and face painting, plus food, flavor pops and cotton candy. (www.merleburl.com)
Student photography, "Recording Life's Moments Through Photography" from the Chicago Art Partnerships in Education after school zoom class for third to fifth graders, is on display through Saturday, June 26, 2021, at Gallery 200, 103 West Washington Street. Gallery hours are from 2:00 to 6:00 p.m. is open Friday and from 10:00 a.m. to 2:00 p.m. Saturday.
The CAPE program was conceived by 5th Grade teacher, Anna Leuer. The students were introduced to the class objective as creating a photo diary. The CAPE supply stipend purchased small digital cameras for each student to use. During each lesson, students were informed on an informational text that relates to the theme of the day. Students wrote narratives into their photo journal about the uploaded photos taken for each theme. Individual photo journal entries were shared each day with the class. (www.merleburl.com)
The First Division Museum at Cantigny Park presents its Date with History series program is at 7:00 p.m. Thursday, July 1, 2021, via Zoom. Vietnam combat aviator Hugh L. Mills, Jr., co-author of "Low Level Hell: A Scout Pilot in the Big Red One," is the featured speaker. Registration is required at FDMuseum.org.
The Vietnam aero scouts of the 1st Infantry Division had three words emblazoned on their unit patch: Low Level Hell. They flew low and slow as the aerial eyes of the division, searching for the enemy. The young pilots (19-22 years old) "invented" the book as they went along. Mills was one of the most decorated soldiers among them. During two tours in Vietnam as an aero scout pilot, he flew more than 3,300 combat hours and developed many of the US Army's standard Air Cavalry aero scout tactics. He was shot down 16 times and wounded three times, earning numerous medals for valor. Mills led Air Cavalry raids into Laos, Cambodia, and North Vietnam; commanded the Army's first night-attack helicopter unit; and served as the Army Representative for Counter Narcotics to the Federal Aviation Administration. He retired in 1993 as a Master Army Aviator with more than 12,000 hours of flying time. (www.merleburl.com)
As part of the June and July "Frida Inspired" exhibit at Gallery 200, 103 West Washington Street, Gallery artists are creating a Frida's Garden full of works of flower and garden art. Frida Kahlo found inspiration and refuge in her garden at her home Casa Azul, "Blue House." Realizing many West Chicagoans also find joy in their gardens, the artists are asking West Chicagoans to submit a picture of their garden, garden plant or flowers. Over the length of the show, Frida's Garden grows with local beauty. To submit an image, persons can use JotForm https://form.jotform.com/211498702067054 or email peoplemadevisible@gmail.com.
The painting "Morning Magnolia" is one of the four by Maggie Capettini in the first virtual online exhibit and sale of the Plein Air Painters Chicago. The event takes place through Monday, July 5, 2021, at https://onlinegalleryshows.com/collections/summer-in-the-city-papc. (www.merleburl.com)
West Chicago City Hall is now open from 8:00 a.m. to 4:30 p.m. Monday through Friday; masks are required for the public. City Council, Committee and Commissions meetings are now in -person.
West Chicago Public Library, 118 West Washington Street, is open 9:00 a.m. to 6:00 p.m. Monday through Thursday, from 9:00 a.m. to 4:00 p.m. Friday and Saturday, and closed Sunday. Appointments are not needed to visit the library, but masks are required. There still is no Study Room or Program Room use yet. All programs, at this time, are online or outside.
West Chicago Park District plans to have Pop Up Parks, a series of small impromptu play days at local parks. Park staff will go to local parks to play with the neighborhood families several times a month during the summer. They will have a different sport/activity, plus refreshing treat for those who pop up to play. There are no set dates since weather, staffing and current events are part of the scheduling. Picnics will be promoted the week of the event at we-goparks.org. The event is more of a neighborhood activity rather than a community one.
Support our local businesses.
The Kress Road construction project between Roosevelt Road and Hawthorne Lane, and Hawthorne Lane between Kress Road and Powis Road, is scheduled to begin this week. Completion is scheduled for the end of October 2021. The project includes partial removal of aggregate shoulders and replacements with asphalt, minor repairs to the bridge over the railroad, culvert replacements and resurfacing the asphalt roadway. Kress Road and Hawthorne Lane is open only to northbound eastbound traffic The Union Pacific Rail Yard and Powis Road. southbound Kress Road and westbound Hawthorne Lane traffic is detoured using North Avenue, Route 59 and Roosevelt Road. Two way traffic is allowed between Roosevelt Road and the UP Rail Yard.
A COVID-19 vaccination clinic is open from 2:30 to 6:00 p.m. Tuesdays at St. Andrew Lutheran Church, 155 North Prince Crossing Road. The clinic is for persons age 18 and older. To make an appointment, call the church office at (630) 231-3787 or email office@standrewlutheran.net.
A COVID-19 testing site is open from 8:30 a.m. to 12:30 p.m. Tuesdays and Thursdays in a VNA Health Care Mobile at St. Andrew Lutheran Church, 155 North Prince Crossing Road. There is no charge. Appointments are required and may be made at (630) 892-4355 or (847) 717-6455
The DuPage County Health Department developed a dashboard to provide information on the total number of people, in DuPage County, who have tested positive for COVID-19. In addition, the dashboard includes a map which shows the distribution of reported cases by municipality and is updated at 4:00 p.m. daily. DuPage County's "COVID-19 Dashboard" is a one-stop-shop for all the information it offers including a town-by-town breakdown of cases. As of Monday, June 21, 2021, there were 4,708 cases and 53 deaths; this is the number from the beginning of track recording.
To keep residents aware of community COVID-19 updates, the City has posted West Chicago's COVID-19 COMMUNICATIONS CENTER on its website, www.westchicago.org. It is located on the upper left-hand side in red. Clicking on this, residents can see the latest information.
Sincere sympathy is extended to the family of Larry O'Neal Marshall, who sat the age of 67 passed away Thursday, June 10, 2021.
Deepest sympathy is expressed to the family of Joanne F. Smith, who at the age of 82 passed away Monday, June 14, 2021.
Sincere sympathy is extended to the family of Patricia Edwards, who at the age of 95 passed away Friday, June 11, 2021.
Deepest sympathy is expressed to the family of Marlene M. (Johnson) Murphy, who's at the age of 88 passed away sunday, June 13, 2021.
Sincere sympathy is extended to the family of Doris Morrissey, who at the age of 87 passed away Saturday, June 19, 2021.
Deepest sympathy is expressed to the family of John W. Hugunin, who at the age of 83 passed away Friday, June 18, 2021.
West Chicago Interim Police Chief Chris Shackelford swore in Ludvin Santos-Tejeda as the new police officer June 14, 2921. Since Santos-Tejeda was already a certified police officer, he started the police department's field training program the week of June 21. (www.merleburl.com)
Kay McKeen, Founder and Executive Director of SCARCE, presented the Water Quality Flag to First United Methodist Church Sunday, June 13, 2021. The DuPage County Stormwater Committee funds the Water Quality Flag Certification through School and Community Assistance for Recycling and Composting Education. It is specifically designed for organizations that earned the Earth Flag and also are committed to clean water. The church Environmental Stewardship Committee, also known as Green Disciples, and the church completed the requirements in February 2020, but the pandemic prevented the church from receiving the award on the 50th anniversary of Earth Day. The Green Disciples hosted a training session led by McKeen for the congregation. Projects of the church include purchasing rain barrels, hosting the annual Pumpkin Collection, posting warning signs on street drains stating that they drain to streams, and creating a native garden. (www.merleburl.com)
Named to the All Conference Tennis team in the Upper Eight Conference were Max Harris and Nick Vazquez. (www.merleburl.com)
Gallery 200 artist Marita Valdizan was featured in https://www.foxvalleyartbeat.com. One of her pieces of artwork pictured was "The Lovely Dream of Pachamama and the Marvelous Spatuletail." The article mentioned Valdizan is the only artist in the world using the unique metal crochet technique in a mixed media approach. Fox Valley Art Beat is a one convenient conduit for artists and enthusiasts, covering workshops, contests, gallery opening and related opportunities. (www.merleburl.com)
Named to the All Conference Wrestling team in the Upper Eight Conference were Pierre Baldwin, Mason Dupasquier and Connor Zemer. (www.merleburl.com)
West Chicago Elementary School District 33 Board of Education selected Maggie Lay as the new principal of Leman Middle School. She replaces Lea DeLuca, who is now the Director of Teaching and Learning. Lay is a life-long West Chicago resident. She earned her Bachelor's degree summa cum laude in Kindergarten through twelfth grade Education Spanish at Augustan College in Rock Island.
Her first job in teaching Spanish was in Johnsburg. Then in 2008 she taught at Plainfield South High School, where she taught all levels of Spanish, was a member of the school improvement team, was varsity cheerleading coach and sponsored the National Honor Society. After earning her degree in Education Leadership from the University of St. Francis in Joliet, Lay was promoted to the Division Chair for World Language, Fine Arts and Career & Technology Education.
She became an employee of District 33 as assistant principal at LMS in 2018. She contributed to the development of new systems including, including the development of the new master schedule and Exploratory programming. She currently is seeking her doctorate in Instructional Leadership at Aurora University. ((wwwmerleburl.com)
West Chicago Community High School head football coach,Tyler Belding, presented the annual Randall Jacob Football Medal and Trophy to Jordan Garcia, a senior, at the post football meeting. The coaches nominate the team player who best personifies the positive qualities that Jacob consistently displayed—athletics, academics and leadership.
Belding said, "Jordan was a great leader in the football program for the past four years. He displayed leadership on the field, but also was a strong student who excelled in the classroom. Jordan was a varsity starter for three years and has consistently made our team and school community proud."
Usually there is a formal presentation at the last home basketball game of the season. However, the COVID-19 pandemic made everything a little topsy turvy this year. During the basketball season, no fans were allowed to watch the games, and football season was this spring after basketball season.
Sponsored by VFW Post 6791, the award has been in existence since 1976. The trophy, with the names of recipients inscribed on the nameplate, is permanently on display at the high school. Jacob was a 1964 graduate of West Chicago Community High School, where he was class president, participated in a variety of school groups and organizations and lettered four times in football and three times in track. In 1967, he was killed in action during the Vietnam War. (www.merleburl.com)
The paper-shredding event, hosted by the West Chicago Environmental Commission, Saturday, June 5, 2021, in the parking lost at Metra Station was quite successful. Accurate Document Destruction, Inc. certified that 16,100 pounds, 7.55 tons, of paper were shredded. Tim Wilson, West Chicago Assistant Public Works director, said, "There were 260 cars. The new site worked very well."
West Chicago Lions Club hosted a special luncheon for Edith Luna and Maxwell Harris, the recipients of their two scholarships, $1,500 each. Both are graduates of West Chicago Community High School
Luna plans to attend University of Ilinois at Champagne-Urbana. Her major is Sociology and Political Science. Maxwell currently is trying to make a decision between attending University of Illinois California Berkeley or College of DuPage engineering pathways program, which guarantees him admission to two years at University of Illinois Champagne-Urbana. He plans to study Civil Engineering Science. (www.merleburl.com)
The last day for Reverend Anthony Nyami, Parochial Vicar at St. Mary's Church, was Saturday, June 19, 2021. He is going to the Catholic Church in Crest Hill. (www.merleburl.com)
West Chicago Fire Protection District was one of the more than 80 fire departments responding to the fire at the Chemtool Inc., a lubricant production plant in Rockton. This response was in conjunction with the Mutual Aid Box Alarm system partnership. As soon as the call was sent to the 69 MABAS division iIllinois, the departments began the travel to Rockton, which is a town north of rockford near the Wisconsin border. West Chicago Fire Chief Patrick Tanner said. "The mutual aid system is one of the best in the country.This is a prime example of how well organized it is in Illinois." Mutual aid is helping a fire department that has exceeded its ability to handle an incident its own. The fire in Rockton exceeded every fire department's ability to handle on its own. (www.merleburl.com)
Peggy Whitman, owner of Happiness N' Hair II at 111 Galena Street, extends special thanks to the West Chicago Streets Department quick response to her complaint about people illegally using the handicap spot in front of her business. Whitman said, "People were using the spot to wait until their taco order was ready and persons needing the parking spot were unable to use it. The city quickly came and lowered the sign and have scheduled to have the handicap painting done in the spot." She said the police are also checking on the parking spot several times a day."
A group of Wheaton Academy students built a solver that is being used for protein simulations in COVID-19 research. A virtual game to connect classmates during the pandemic lockdown evolved into this complex project. It recently was featured on CBS Chicago, https://chicago.cbslocal.com/…/wheaton-academy…/. (www.merleburl.com)
At the Tuesday, June 15, 2021, meeting, Community High School District 94 Board of Education held a Public Hearing for an amended budget for the 2020-21 Fiscal Year. The purpose was due to expenses related to the pandemic and the federal CARES/ESSER revenue received to address these expenses. During the regular meeting, it passed unanimously.
The board formally committed $195,000 in surplus transportation funds from this fiscal year to be reserved for vehicle replacement over the next couple of years.
Approved was a one-year extension of the Collective Bargaining Agreement with the West Chicago High School Support Staff Association.
My email address is merleburl@earthlink.net