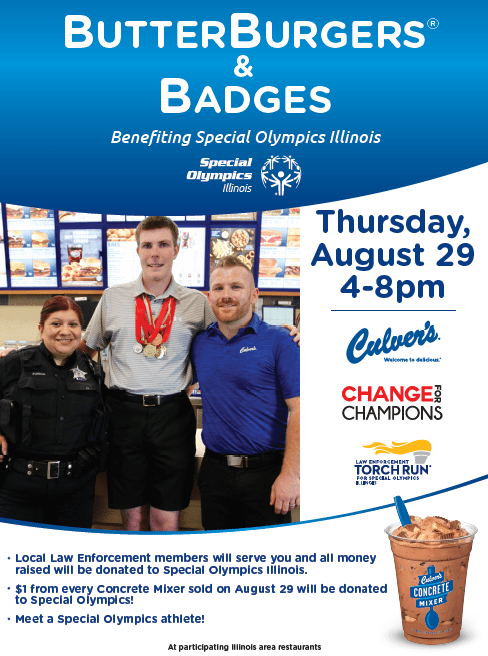 Culver's restaurants throughout Northern Illinois are partnering with Special Olympics Illinois this August with several in-store activities planned. Most notably the 5th annual 'ButterBurgers & Badges' fundraising event on Thursday, August 29, from 4-8 p.m.
ButterBurgers & Badges will feature local law enforcement officers providing table service for guests dining inside, and also delivering the chain's famed burgers and fresh frozen custard desserts to those visiting the drive-thru.
Law enforcement officers will collect donations for their service. One dollar for every purchase of any size Culver's Concrete Mixer will benefit Special Olympics. Also, Special Olympics Illinois athletes will be on-site to meet and greet guests.
ButterBurgers & Badges is part of a month-long initiative by select Culver's locations across Chicagoland that includes participating stores proudly displaying 'Change for Champions' donation canisters near counter areas.
"Culver's is proud to partner with Special Olympics Illinois," says Culver's of St. Charles owner Kris Callahan. "Many of our restaurants currently employ team members who are also Special Olympic athletes and that brings us an even closer connection to this great organization."
Bryan Liston is the 2019 Butter Burgers & Badges Ambassador. Bryan graduated from Niles West High School in 2016. He played on the golf team his freshman and senior years of high school. Bryan soon became a golf superstar, with four gold and two bronze medals. Playing golf is a passion for Bryan. He enjoys meeting new people on the course.
In addition to golf, Bryan participates in basketball. He has played on the Elmhurst College Special Olympics basketball team the last two years and won two gold and one bronze medal during that time. By playing basketball Bryan has learned teaming building skills that have helped him grow as a teammate, athlete, and friend.
Funds raised will help Special Olympics Illinois continue its programs that provide year-round sports training and competition for children and adults with intellectual disabilities.
For more information, call (847) 229-1123 or visit https://www.soill.org/event/butterburgers-and-badges.
*Press Release provided by Special Olympics Illinois