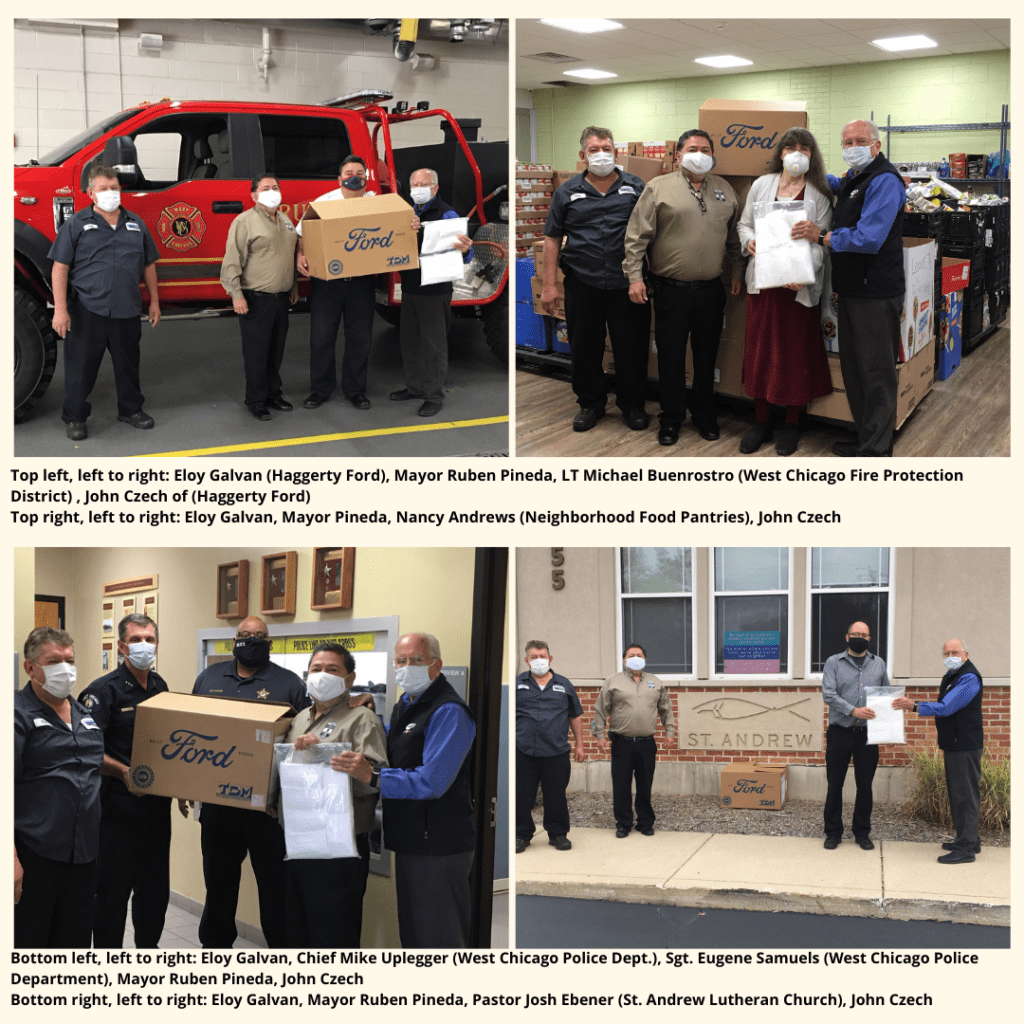 Supporting the community through a donation of more than 10,000 Ford PPE masks, Haggerty Ford Sales Consultant John Czech and Porter Coordinator Eloy Galvan, were joined by Mayor Ruben Pineda in presenting boxes containing 2,280 masks to representatives of four West Chicago organizations that serve the community.
The masks were presented to Nancy Andrews, Site Coordinator for Neighborhood Food Pantries located at 123 Fremont Street, LT Michael Buenrostro of the West Chicago Fire Protection District station at 200 Fremont Street, Chief Michael Uplegger and Sergeant Eugene Samuel of the West Chicago Police Department at its station located at 325 Spencer Street, and Pastor Josh Ebener of St. Andrew Lutheran Church, 155 N. Prince Crossing Road. An additional box of masks will be donated to the West Chicago VFW Post #6791 in the near future.
"This will greatly help our ongoing campaign to inform the community of the importance of wearing masks in public," said Mayor Ruben Pineda. "Haggerty Ford's donation of more than 10,000 masks for distribution by five of our community partners will give more people the ability to follow this simple yet effective prevention measure. It will help people put into practice what we have been stressing, 'wear a mask'."
Additional Community Outreach
The City has consistently provided outreach materials aiming to educate the public in prevention measures to stop the spread of the pandemic via print and digital fliers and resources.
Most recently, thanks to funding through the DuPage County Health Department, 6,000 bi-lingual fliers were delivered to three supermarkets for distribution at checkout lines, 350 of these fliers were delivered to the Neighborhood Food Pantries, and an additional supply will be used for distribution at the upcoming Healthy West Chicago sponsored flu clinics. The County has also provided 2,000 kits containing masks, hand sanitizers and COVID-19 related literature which will be given to the public at food distribution points and the flu clinics.
"We are grateful for the support we are receiving from the DuPage County Health Department in bringing our COVID-19 case numbers down. We are all working hard to provide resources in whatever ways we can to reduce and ultimately eliminate this devastating illness throughout DuPage County," said Mayor Pineda.
For the latest updates from West Chicago, visit the City's COVID-19 Communications Center.