A West Chicago business, Hawthorne's Backyard Bar & Grill, received the Philanthropic Business of the Year Award at the 17th Annual Philanthropy Awards luncheon today held at Abbington Distinctive Banquets in Glen Ellyn. The event, sponsored by the West Suburban Philanthropic Network (WSPN) recognizes organizations and individuals that have made a dramatic impact on philanthropy.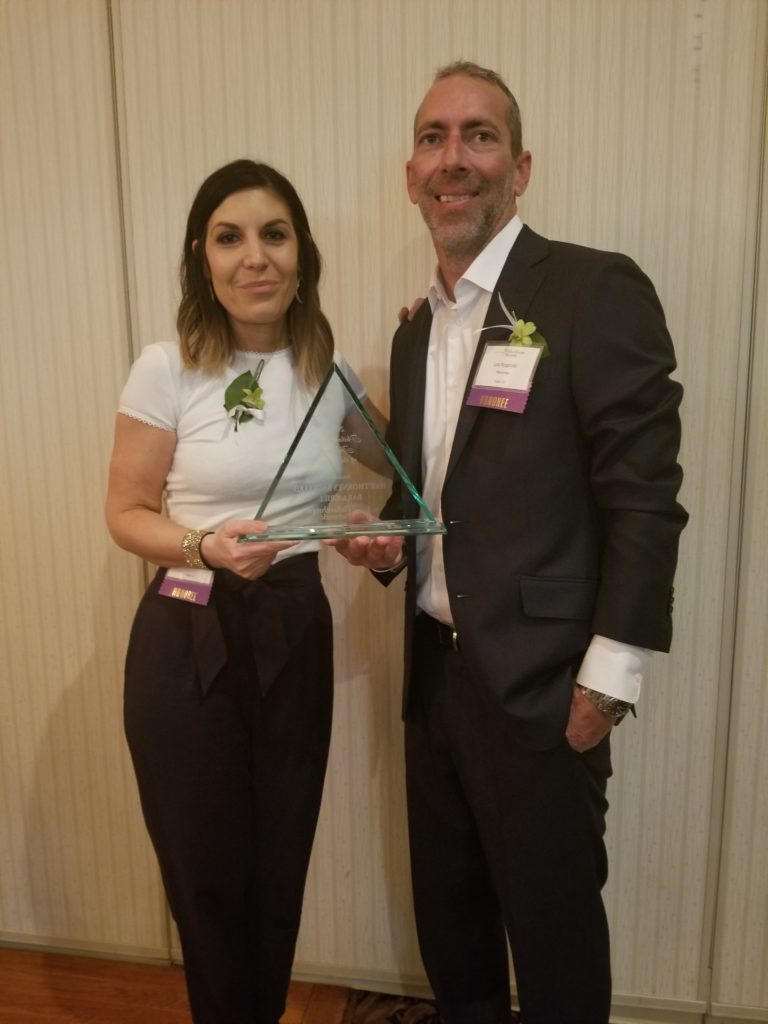 The following information, which appeared in the WSPN luncheon program, outlines the reasons Hawthorne's was chosen to be honored:
"Hawthorne's Backyard Bar & Grill embodies the spirit of philanthropy in business through its long-standing support of a number of causes throughout the year. The bar and grill owned by Lou Kopinski has gained a reputation for community service, from serving as a venue for fundraisers to hosting its own benefits for causes often inspired by customers. One such event is the West Chicago Professional Fire Fighters Association's Chili Cook-Off for a Cure to benefit breast cancer awareness and research. 'He's very supportive of any type of fundraiser,' said Theresa Buenrostro, who organizes the Chili Cook Off with her husband, West Chicago firefighter Mike Buenrostro.
Some of Hawthorne's own charity events include their annual Turkey Bowl to support ovarian cancer research in honor of a customer's wife who died from the disease. Another is a bags tournament Hawthorne's hosts for the Avon Breast Cancer Walk, and a golf outing that benefits West Chicago Boy Scout Troop 33. 'We just try to tie in everything we do to some kind of charity,' Kopinski said.
Beyond the many events, Hawthorne's Backyard also adopts two families during the holidays as part of a West Chicago Police Department program in which they rake donations from patrons in decorated stockings made by the donors chat are displayed all over the restaurant. Lou Kopinski then marches the donations and gifts are purchased with the money for the two local families in need. Keeping with the spirit of holiday giving, for the past two years they've worked with the West Chicago Police Department's social worker Rosie Valencia to also host a free Christmas dinner for local less fortunate families in the community. In addition to the many fundraisers, Hawthorne's Backyard regularly donates food to an Aurora pantry and the restaurant provides food to local schools for events.
'For West Chicago, it's important to have a business that's invested in the town the way Hawthorne's Backyard is,' Mayor Ruben Pineda said. 'It's clear how much Kopinski cares about the community,' he said. 'Every time you turn around, every time you go our there, he's doing something for someone,' Pineda said. Lou Kopinski won't take all the credit. When he first decided to set up shop in West Chicago, Kopinski was familiar with the area but not the community itself, he said. He soon learned the people here were what made the town the best place for his business to be. 'This town has some great people, especially as far as charity work goes,' Kopinski said. 'It's a very caring community.'"