Dear fellow community members,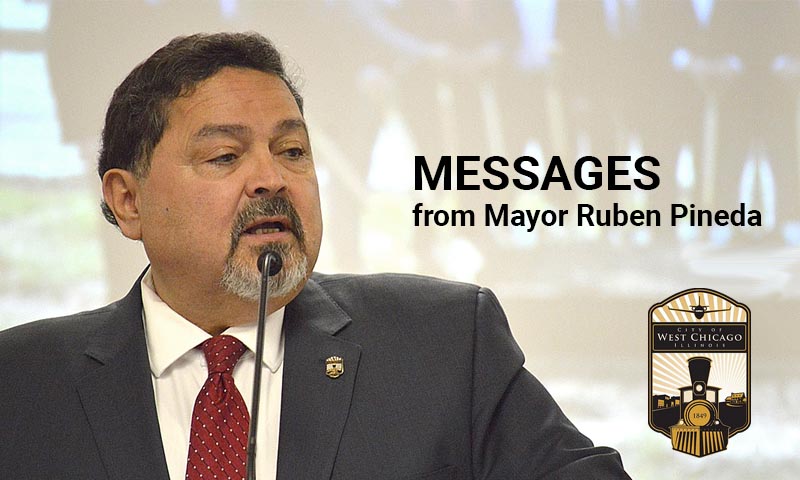 We have heard over the past few months the added risk that COVID-19 poses to our senior population. We have also heard recently of the tradition that was started in 1963 by President John F. Kennedy and members of the National Council of Senior Citizens that led to the designation of May as "Senior Citizens Month," and then to "Older Americans Month".
Since then, every President has issued a formal Proclamation for the month of May so that older Americans across the country are recognized for their countless contributions in service to their families and communities. This recognition is well conceived and deserved.
Now more than ever, we feel a special need to focus on our older residents due to the devastating toll the COVID-19 virus is taking on this segment of our population. It is heartbreaking to see the news reports of veterans well into their 90s, many of whom faced down our country's worst enemy on the beaches of Normandy, succumb to the faceless enemy that is COVID-19.
Many in our own community have older parents living in multi-generational households, or in nursing homes. These pose special risks because of the close quarters, which increase the opportunity for exposure from other household members, or healthcare workers. For this reason, the CDC has advised that long-term care facilities regularly check staff and residents for fevers and symptoms, limit activities within the facility to keep residents safe, and restrict visitors. For those living with an older family member, precautionary measures take on added significance.
It is critical that we continue to follow the guidelines of our state and federal officials to protect the most vulnerable in our families and neighborhoods.
Our older population needs us now. Proclamations are not enough this year. The best way we can honor them this May, is by keeping them safe. Practice social distancing, yet check on those who may be suffering the effects of isolation with a phone call, card, or window visit. Wear a mask for their sake, you may not be experiencing symptoms of COVID-19, but you may still be carrying it and exposing it to those with a weaker immune system. Wash your hands frequently, and wipe down surfaces often. Use a hand sanitizer and do not touch your face. We all know the drill by now. Let us not become complacent, there is too much at stake.
I wish you and your families continued strength, safety, and health.
Respectfully,
Ruben Pineda
Mayor of West Chicago
For additional Messages from Mayor Pineda, visit the COVID-19 Communications Center on the City's website.
________________________________________________________________________________________________________________________________________________________
Queridos compañeros miembros de la comunidad,
Hemos escuchado en los últimos meses el riesgo agregado que COVID-19 posea a nuestra población de la tercera edad. También hemos recientemente escuchado de la tradición que fue comenzada en 1963 por el Presidente John F. Kennedy y miembros del Concejo Nacional de Personas Mayores (National Council of Senior Citizens) que embarcó la designación de mayo como "Mes de Personas Mayores (Senior Citizens Month)," y después a "Mes de Americanos Mayores (Older Americans Month)".
Desde entonces, cada Presidente ha otorgado una Proclamación formal para el mes de mayo para que los americanos mayores a través del país sean reconocidos por sus contribuciones incontables en servicio a sus familias y comunidades. Este reconocimiento es bien concebido y merecido.
Ahora más que nunca, sentimos una necesidad especial para enfocarnos en nuestros residentes mayores debido al peaje devastador que el virus COVID-19 está tomando en este segmento de nuestra población. Es angustioso ver los reportes de noticias de veteranos bien en los 90, muchos quienes enfrentaron al peor enemigo en las playas de Normandy, sucumbiéndose al enemigo sin rostro que es COVID-19.
Muchos en nuestra comunidad tienen padres mayores viviendo en casas multigeneracional, o en asilos de ancianos. Estos posean riesgos especiales por la poca proximidad, lo cual aumentan la oportunidad de exposición de otros miembros de casas, o trabajadores de cuidado de salud. Por esta razón, el CDC ha aconsejado que instalaciones de cuidado a largo plazo revisen regularmente al personal y residentes por fiebre y síntomas, limiten actividades dentro de la instalación y mantengan a los residentes seguros, y restringir visitantes. Para aquellos viviendo con un miembro de familia mayor, medidas de precaución toman un significado agregado.
Es critico que nosotros continuemos siguiendo las guías de nuestros oficiales del estado y federales para proteger a los más vulnerables en nuestras familias y vecindarios.
Nuestra población de mayores nos necesitan ahora. Las proclamaciones no son suficientes este año. La mejor manera que podemos honrarlos este mayo, es mantenerlos seguros. Practique distanciamiento social, aun revisando aquellos quienes están sufriendo los efectos de aislamiento con una llamada, tarjeta, o visita por ventana. Póngase un cubre bocas por el bien de ellos, usted tal vez no esté experimentando síntomas de COVID-19, pero todavía puede estar infectado y exponiendo a aquellos con un sistema inmunitario debilitado. Lávese las manos frecuentemente, limpie las superficies a menudo. Use un desinfectante de manos y no toque su cara. Todos ya sabemos el procedimiento por ahora. No hay que volvernos complacientes, hay demasiado en juego.
Le deseo a usted y a sus familias fuerza continua, seguridad, y salud.
Respetuosamente,
Ruben Pineda
Alcalde de West Chicago