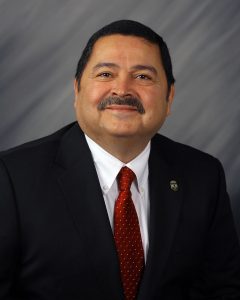 "My leadership-style is simple. I am a straight-shooter who wants an issue well-researched to make sure all sides are presented."
Ruben Pineda has a record of public service that began in 1998 when he was appointed to fill a vacant seat on the City Council in West Chicago's Third Ward. He has been Mayor since 2012. He was the first Hispanic Alderman in the City of West Chicago, and is now the City's first Hispanic Mayor. He has contributed to such initiatives as the state-of-the-art water treatment facility, the waste transfer station, Educare, Habitat for Humanity, and Healthy West Chicago. In 2017, Mayor Pineda signed the National Wildlife Federation's Mayors' Monarch Pledge as a means to bring awareness and to promote action in West Chicago to save the Monarch butterfly. Since doing so, the City received a national award in 2019 from America in Bloom, for the Best Pollinator Program among its members throughout the country.  Mayor Pineda is leading the current momentum of community growth and development at the DuPage Business Center, which collectively represent over three million square feet of new construction in the 640-acre Center. The City's prospects for its Central Main Street Redevelopment Plan represents the largest single physical transformation to downtown West Chicago in its history.
Personal History
Mayor Ruben Pineda has lived in West Chicago for 59 years. He is one of four sons born to Julian and Juanita Pineda, migrant workers who picked cotton in Texas and moved north to Illinois for more work in the corn, bean and tomato fields in the DeKalb and Morris areas. Illinois gave Julian and Juanita a family and many opportunities for a better life, so they stayed. Recognizing the value of an education, Juanita made sure her children were bilingual in reading and writing before starting school.
Mayor Pineda has been married for more than 30 years to his wife Julie, and credits her with encouraging his active involvement in the community. Mayor Pineda, Julie and their two adorable Jack Russell terriers, Vivian and Tabatha, enjoy the natural beauty, abundant recreational options and most especially, the strong spirit of community found in West Chicago.
Coffee with the Mayor
The next Coffee with the Mayor is
Saturday, May 20, 2023
9:00 - 11:00 a.m.
at Blooming Fest.
Contact Info:
(630) 293-2200 x135
rpineda@westchicago.org
Related Links
2022 State of the City Address
2021 State of the City Address (Transcript)