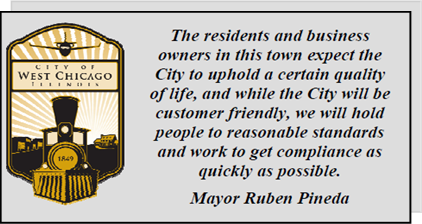 The City of West Chicago's goal is to improve the appearance of business and residential areas and create a community where all those who live, work or visit can experience a sense of pride and well being. Enforcement of the code assures that residents and owners maintain their properties in conformance with the International Property Maintenance Code.
What can I do to make sure my property meets City standards?"
FAQ TOPICS 
Foreclosed Property Registration Program
Code Enforcement and Adjudication Information
Standards for Maintenance of Residential Properties - .pdf 230kb
Normas para el Mantenimiento de Viviendas - .pdf 230kb
To register a Defaulted Mortgage/Foreclosure or Vacant (no foreclosure) property, please visit:
http://community.prochamps.com/il/dupage/west-chicago-city
Any questions with respect to registration requirements, registration status, etc. should be directed
to SUPPORT@PROCHAMPS.COM.  Or, you may contact PROCHAMPS at (321) 421-6639.
To file a complaint, call (630) 293-2200 extension 131 or 141  or email CommunityDev@westchicago.org.