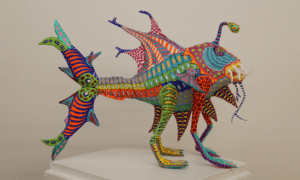 Join the Mexican Cultural Center DuPage for the opening of Maquetas & Bocetos: Creatures of a Dream World on Friday, April 8 from 5 p.m. to 9 p.m. The multi-dimensional exhibit explores the history and magic behind the unique Mexican art form that is an alebrije. Guests will learn about the process of creating alebrijes, and how artists pull inspiration from different aspects of their own lives and the world around them to design and sculpt these one-of-a-kind creations.
The models and drawings to be featured were created as part of the work the Mexican Cultural Center has been doing in collaboration with Meztli Artist Collective, their partner in Mexico City, to bring 48 Mexican masterpieces to DuPage County. 18 large alebrijes, alebrijes monumentales, and 30 smaller spirit animal sculptures will be on display at Cantigny Park from June 12 to Oct. 31, 2022. For more information and for full Cantigny Park programming see www.cantigny.org.
Maquetas & Bocetos runs from Friday, April 8 through Saturday, August 27 at Gallery 200, 103 W. Washington Street, West Chicago. Free parking is located next to the building and admission is free.